Diocese Accused of Perpetuating Sex Abuse
Bishop, Norwich Diocese Should Have Done More to Curb Priest, Victim Says

By Day Staff Writer
The Day [New London CT]
April 3, 2002

By "turning a blind eye" to one priest's pedophilia, Bishop Daniel Hart and the Diocese of Norwich made it possible for him to continue his sexual assaults on a teen-age boy, New London attorney Robert Reardon argued Tuesday in Norwich Superior Court.

The bishop and the diocese moved the Rev. Richard T. Buongirno from parish to parish and allowed him to work with young boys even after they had evidence that he may have sexually assaulted a child and had had a sexual relationship with a teen-ager, Reardon said.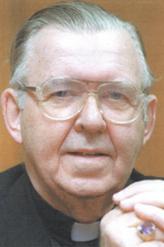 Bishop Daniel A. Hart
Joseph Sweeney, the lawyer representing the diocese, argued that while the bishop and the diocese did allow Buongirno to continue working, they did so only after the Institute of Living in Hartford had assured them that he posed no threat to anyone.
Judge Ian McLachlan heard the arguments on a motion by the diocese for summary judgment in the case of John Doe vs. Richard T. Buongirno.
John Doe is suing Buongirno, alleging that beginning in 1990, when Doe was a 9-year-old boy, Buongirno sexually assaulted him on several occasions. Buongirno was the pastor of St. Matthias Church in East Lyme at the time.
Even after the diocese was made aware of an earlier sexual relationship with a teen-ager, Doe alleges, Buongirno was allowed to serve in several parishes, including Middletown, where, at a ring ceremony at Xavier High School, he resumed his sexual predation of Doe.
"Bishop Hart turned a blind eye to the man that he had in his midst that was a sexual predator. As a result, my client suffered through another nine months of sexual assault at the hands of Father Buongirno," said Reardon, who represents John Doe, a pseudonym used to protect the identity of the plaintiff.
Hart and the diocese were negligent and showed wanton and willful misconduct by allowing that to happen, Reardon said.
Sweeney argued that the bishop and the diocese should be dismissed from the case because "when any Catholic priest assaults a minor, that priest has abandoned his pastoral duties and is on ... his own."
For the diocese to be liable, Sweeney said, the priest must be acting "within the scope of his employment and in furtherance of the employer's business."
At issue Tuesday was what the bishop and the diocese could reasonably have been expected to know, and when they knew it.
When Doe's mother complained in 1991 to the state Department of Children and Families, it was never "substantiated," Sweeney said. So then-Bishop Daniel P. Reilly and the diocese concluded it was a "false alarm."
"They dismissed it just as you would dismiss a wrong number on the telephone," Sweeney said. "You move on with your life, and you don't really think anything more about it."
In 1994, a Massachusetts man told the diocese he had had a homosexual relationship with Buongirno after they had met at St. Thomas More School, where Buongirno was teaching.
The diocese sent Buongirno to the Institute of Living for treatment and evaluation, where he told doctors he was "in love with" the teen-ager and that he would go out with him "and engage in fellation with him." He also had a relationship with a nun that resulted in her expulsion from the school, Reardon said.
Ultimately, Sweeney said, the diocese was told that Buongirno did not represent "any risk to anyone," and it sought a second opinion from another doctor before returning Buongirno to service.
"This was not a casually handled matter," Sweeney said.
Reardon pointed out that the diocese did nothing to follow up the complaint of 1991 and, even after 1994, sent Buongirno to other parishes without warning anyone of his history.
"The so-called 'false alarm' in 1991 was a raging fire in 1994, and they did not want to deal with it," Reardon said.
Instead, he said, the diocese sent Buongirno to St. John's in Cromwell to work with The Rev. Dan McGrath. Asked if the bishop had warned him about Buongirno's problem, McGrath said, "He told me nothing."
The same was true when Buongirno was sent a year later to St. Francis of Assisi in Middletown.
In both parishes, there were incidents in which Buongirno was found to have boys in his room. In Middletown, he reportedly pilfered the collection baskets.
Bishop Hart, who has said he read the personnel files of all the priests in the diocese upon his arrival in November 1995, did nothing about the situation, Reardon said, even though the files contained this information.
"Bishop Hart knew that this man told a psychiatrist that he had engaged in this conduct," Reardon said. "And then he placed him in a position that he would have boys in his room."
For his part, Sweeney argued that Buongirno had people of all ages in his room and that having relations with a teen-ager was different from having them with a child.
"He was a predator," responded Reardon. "Whether of children or teen-agers is irrelevant. He was a predator.
"Bishop Hart should have known if he did not know. What he saw in the file should have told any reasonable person that Buongirno was a sexual predator and should not be placed in any parish."
It wasn't until 1998, when diocese officials learned that Buongirno had taken John Doe on a trip across the country, that they ordered him to return immediately and took matters in hand, Reardon said.
Sweeney argued that Reilly had questioned Buongirno in 1994 and reported that "Buongirno assured me that he had not entered any sexual activity after entering the seminary."
Sweeney also said that in depositions taken under oath, Buongirno "says there was no sexual contact between himself and the plaintiff.... He has denied it all."
Judge McLachlan asked Sweeney why the diocese never alerted any of the pastors when they sent Buongirno to other parishes.
They did not alert McGrath, Sweeney said, because they knew "he would watch Buongirno very closely." And they did not alert the monsignor in Middletown because "he was a very savvy person and they did not perceive a need to tell him."
"If they had," McLachlan said, "you might not be here today." The case is continuing.
k.robinson@theday.com