Ex-Priest Convicted of Raping Altar Boy
By Jonathan Finer
Washington Post Staff Writer
Tuesday, February 8, 2005; Page A02

http://www.washingtonpost.com/wp-dyn/articles/A5525-2005Feb7.html

CAMBRIDGE, Mass., Feb. 4 -- A jury found defrocked priest Paul R. Shanley guilty Monday of raping and molesting an altar boy, concluding one of the few criminal trials to result from the revelations of widespread sexual abuse by clergy that surfaced here three years ago.
Shanley, 74, one of the most notorious figures to emerge from the scandal, was convicted on two counts of child rape, each of which can carry a life sentence, and two counts of indecent assault and battery against a child under 14.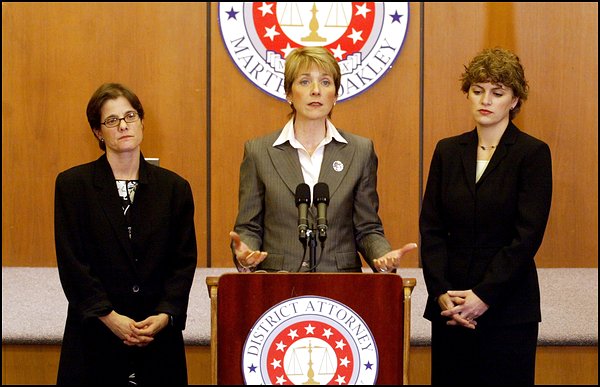 Middlesex County District Attorney Martha Coakley speaks after a jury convicted defrocked priest Paul R. Shanley of raping an altar boy in the 1980s. (Bizuayehu Tesfaye -- AP)
The crimes took place in the 1980s, when Shanley was the pastor of St. Jean's parish in Newton, Mass., a suburb west of Boston. After less than a week of testimony, the jury deliberated for nearly 15 hours over three days. Sentencing was scheduled for Feb. 15.
The victim, who has asked not to be named, rocked back and forth, sobbing and briefly smiling, as the verdicts were read. He left the courtroom without speaking to reporters.
Middlesex District Attorney Martha Coakley called the case against Shanley an "uphill battle." Prosecutors relied on the testimony of a single accuser after dropping three others and worked hard to convince jurors of the credibility of "repressed" or "recovered" memories.
Coakley said the credibility of the accuser's account swayed the jury: "In the end, they got it. They understood that this young man was telling the truth."
Lean and white-haired in a charcoal-gray sport coat, Shanley, whose bail was revoked by Middlesex Superior Court Judge Stephen Neel after the conviction, stood impassively until the jury exited. He was then escorted from the courtroom by bailiffs.
His attorney, Frank Mondano, told reporters that an injustice had been done and vowed to appeal. "It appears that the absence of a case is not an impediment to securing a conviction," he said.
Juror Victoria Blier, who was reached by phone at her home Monday evening, cited a $500,000 civil settlement that the victim had won from the Roman Catholic Archdiocese of Boston.
"Everyone wished that there was physical evidence or corroborating witnesses, but I would say in my opinion the overridingly persuasive argument was that the victim had already won a half-million-dollar settlement and he was under no obligation to pursue a criminal case," said Blier, 53.
"He had every reason to think it would be very, very painful. He knew exactly how much of his childhood was going to be laid bare," she said.
More than 250 priests and other church workers in the Boston area have been accused of abuse since the 1950s, according to a study released by Massachusetts Attorney General Thomas F. Reilly in 2003.
Boston's Catholic archdiocese has settled civil cases with hundreds of victims, but the vast majority of accused priests never faced criminal charges because the statute of limitations on the alleged crimes had expired.
Shanley, a flamboyant preacher lauded for his ministry to troubled youths in the 1970s, left Massachusetts in the early 1990s, halting that countdown.
Church documents showed that diocesan authorities were aware of dozens of abuse accusations against Shanley but shuttled him, and other accused priests, from parish to parish without notifying the communities involved. He was arrested in California in 2002.
"Only 2 percent of [abusive] priests ever get inside a courtroom," said Anne Hagan Webb, co-director of the New England chapter of the Survivors Network for Those Abused by Priests. "So many of us have had to rely on this case for justice."
The trial centered on Shanley's sole accuser, a burly, 27-year-old local firefighter, who said the former priest began assaulting him in 1983.
The man described in graphic detail being pulled out of religion classes and molested in pews, a church basement bathroom and in the confessional. In three days of testimony and combative cross-examination, he said that he first recovered memories of being abused by Shanley in 2002, after reading early news reports about the emerging scandal in Boston.
Mondano portrayed the accuser as an opportunist motivated by money and the desire to be a hero, and seized on apparent inconsistencies in his statements. He called in a nationally known expert who said there was no scientific evidence that memories of traumatic events can be stored in the subconscious for many years.
"There is not just reasonable doubt in this case," he said in his closing argument. "There is massive doubt."
Prosecutors said that because the victim had won the civil settlement, he was not motivated by financial gain. They said at a news conference Monday evening that after one particularly contentious day of testimony, the accuser had considered discontinuing the case.
Asked for the victim's reaction to the verdict, Coakley said, "If you had a chance to see the expression on his face, he thought it was worth it."
Others who said they had been abused by Shanley said they felt vindicated and relieved. "When we first started talking about our abuse . . . nobody wanted to touch it," said John Harris, 47, of Norwood, Mass., who attended much of the trial and said that Shanley had raped him almost 30 years ago. "Finally it feels like somebody heard us, and it turns out to be a jury."