Survivor: `I just felt a tremendous sense of relief'

By Kevin Rothstein
Boston Herald
February 8, 2005

http://news.bostonherald.com/localRegional/view.bg?articleid=67459&format=

Paul Shanley was convicted of molesting one boy yesterday, but the verdict gratified the dozens who claim the perverted ex-priest hurt them during a decades-long reign of sexual terror.

``I just felt a tremendous sense of relief when I heard the word guilty,'' said Phil Saviano, head of the local chapter of Survivors Network for those Abused by Priests, who knows many alleged Shanley victims.

Shanley's profile was one of the highest among priests exposed during the church sexual-abuse crisis that rocked the Boston archdiocese. Many alleged victims, already fearful their stories were doubted, felt their credibility depended on a successful prosecution, Saviano said.

``It seems like everybody's hopes and fears were tied into the Shanley case, and I was frankly worried for survivors emotionally and how they were going to respond if Shanley was in fact acquitted,'' he said.

During Shanley's criminal trial for raping and fondling a young parishioner for years during the 1980s, beginning when the boy was 6, the hazy state of memories recalled by the now-27-year-old victim only heightened the anxiety that other victims felt.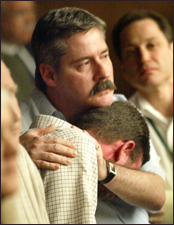 Robert Costello, consoles John Harris, who says he was molested by Paul Shanley. (Staff photo by Mark Garfinkel)
And as Shanley became a poster boy of sorts for the priest abuse scandal, a guilty verdict became all that more important.

``To many victims of clergy pedophilia, not only was Father Shanley on trial today but so were the supervisors of the Archdiocese of Boston,'' said lawyer Mitchell Garabedian, who represents alleged victims of Shanley and other priests in civil suits.

Nationally, Shanley ranks ``pretty high in the constellation of clergy molesters,'' said David Clohessy, national director of SNAP.

``An acquittal would have certainly made it tougher for many victims to come forward,'' he said.

In a statement, the Archdiocese of Boston did not address the verdict directly but noted the trial revived the suffering of priest abuse victims.

``It is important for the Archdiocese of Boston, in this moment, to again apologize for the crimes and harm perpetrated against children by priests who held the trust and esteem of families and the community,'' the statement said.