Jury Finds Priest Not Guilty
Catholic Cleric Was Accused of Sexual Abuse

By Reid J. Epstein repstein@journalsentinel.com
Journal Sentinel Online
August 22, 2003

http://www2.jsonline.com:80/news/metro/aug03/164178.asp

A Catholic priest charged with sexually abusing a teenage boy in the late 1980s was acquitted late Friday by a Milwaukee County jury.

Father Marvin Knighton cried with relief and buried his head in his hands as the verdict was announced after about two hours of deliberation.

He declined to comment, but his attorney, Gerald P. Boyle, said, "to have a jury acquit this fine man is wonderfully refreshing."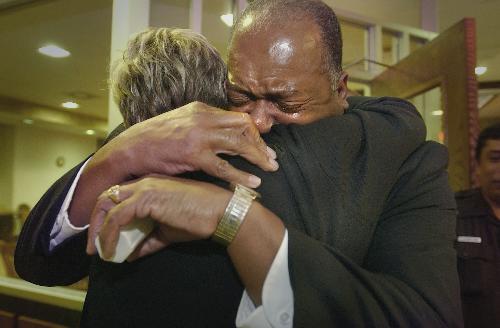 Father Marvin Knighton hugs a family friend after being acquitted Friday night of a charge of second-degree sexual assault.
Photo/Elizabeth Flores



Knighton's accuser - the state's key witness - was red-faced with grief.

"I did the best job that I could to hold a sexual perpetrator responsible for his actions, and that's all I can do," said Brian Flynn, who left the courtroom during Knighton's testimony.

In his closing argument, Boyle said Flynn's testimony was not enough to convict Knighton, and cautioned jurors not to let the sexual abuse scandal in the Catholic Church at large influence their thinking about Knighton.

"The media permeates us with (reports) about the Catholic priests, and they say they're all pedophiles," Boyle said.

In his rebuttal, Assistant District Attorney Paul Tiffin said that neither could jurors assume innocence because Knighton is a priest.

Boyle's argument, Tiffin said, "comes down to this: He's a good man, and he's done good things. This is the attitude that led to the crisis in the Catholic church."

Knighton, 53, was charged in June 2002 with second-degree sexual assault. Flynn, now 29, accused Knighton of molesting him as a teen in the late 1980s, when both were living in Wauwatosa. He never confided it to anyone until 1993, Flynn said, and went to law enforcement only after beginning therapy in 2001. Wisconsin law allows a person who claims to be victim of sexual assault as a minor to seek charges before the age of 31.

Testifying in his own defense Friday, Knighton said he never rubbed himself against Flynn at his home or at the Cousins Center swimming pool, kissed Flynn on the mouth or rubbed his hands through his hair, all acts Flynn had testified to Thursday.

Knighton said that although he is "a hugger," he avoided physical contact with Flynn because of an incident shortly after the boy's mother died in October 1986.

Seeing Flynn playing basketball in the front yard of his Wauwatosa home, Knighton stopped to say hello. He hugged Flynn and kissed him on the cheek, he said, and Flynn recoiled.

"He pushed me away and said, 'Are you gay or something?' " Knighton said. "I never initiated a hug with that child again because of that experience."

Flynn, who had testified in detail Thursday about numerous incidents, denied that incident happened.

Knighton added that he never kissed anyone on the mouth, only on the cheek in a non-sexual manner.

After the verdict, Boyle said Flynn had been erroneously led on by supporters interested in convicting priests of sexual abuse.

Knighton had been a consultant to the Milwaukee Catholic Archdiocese office of youth and child ministry and a counselor, teacher and campus minister at Pius XI and Whitnall high schools when Flynn attended Pius. Knighton moved to Phoenix after the charges were filed in June 2002. He has been prohibited by the Milwaukee Archdiocese from any public ministry pending the case outcome.

He explained how, against the wishes of the archdiocese, he adopted two Korean boys in 1988. The boys, now 23 and 21, live in Milwaukee. Knighton testified that his sons - who are both biracial - would have not been citizens in Korea because of their ethnic makeup. Bringing them to the United States, he said, was the humane thing to do.

Knighton said he adopted a third son in 1996 after the boy, now 9, watched his mother get shot in the head in Milwaukee. That son lives with Knighton in Phoenix, he said.