History of St. Mary Immaculate Parish

Http://www.smip.org
August 24, 2008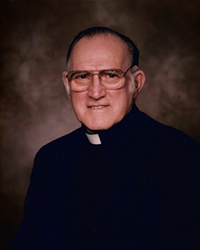 Father Charles Van Duren



Charles Van Duren was ordained as a priest on May 31, 1952 and served as pastor from 1982 until 1995.

Fr. Van Duren was born on March 7 , 1920 and became an orphan after his father died in 1922. He lived in an orphanage until he was 12 years old. Even though he ran away a couple of times, Fr. Van Duren always said he had healthy memories about his younger years. He was living in Davenport Iowa and engaged to be married, when he heard God's call to become a priest. Before he came to the Joliet diocese, he worked with the Indians of the Dakotas, and spent 4 years at Mississippi State University working with the poor.

Fr. Van Duren was the pastor of St. Mary Immaculate when the tornado destroyed the church and school buildings. He wasted little time in starting the process of reconstruction and in 3 years, the new buildings were completed. In the late 80's, Fr. Van Duren was shepard to around 1800 families.