Cablevision Hears from Local Viewers:
Will Live Show with Father Groeschel Be Aired Live?

By Judy Silberstein
Larchmont Gazette
November 2, 2004

http://www.larchmontgazette.com/2004/articles/20041104religion.html

UPDATE: On Monday, November 8, the Gazette learned that Cablevision has decided to broadcast Father Groeschel's show in its live time spot on a permanent basis. Mrs. Morris, who initiated the campaign to get the show aired live in Larchmont, appeared in the studio audience on Sunday, by invitation of the host.

(November 2, 2004) Cablevision and the Larchmont-Mamaroneck Board of Control have been hearing from a passionate group of television viewers in the past two weeks whose mission is to insure that a new call-in show broadcast worldwide and featuring a Larchmont friar can be seen live in this area.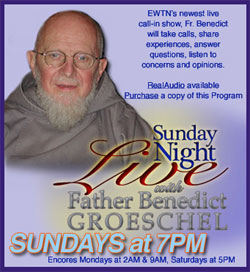 photo courtesy of EWTN


Faithful followers of the Larchmont-based spiritual leader switched their television sets to Cablevision Channel 68, ESPW, on October 24 expecting to see his new show, "Sunday Night, Live With Father Benedict Groeschel." Instead, they were met with a broadcast of local programming from Mount Pleasant that was also appearing on another channel further up the spectrum. Father Groeschel's show wouldn't air until Monday morning at 2 and 9 am, on tape.

That wouldn't do for Maureen Morris and her family who had gathered to watch the call-in show and had been planning to phone in a question so Father Groeschel could respond on air.

"To put it mildly, we were all disappointed," said another surprised viewer, St. Augustine parishioner Cathy Hickey.

Father Groeschel, who serves as the director of spiritual development for the Archdiocese of New York, "has a huge following – a passionate following," both in Larchmont and worldwide, said Ms. Morris, who is one of many local residents who help support Father Groeschel and the other Franciscan friars at the Trinity Retreat on Pryor Manor Road and who cook for the Padre Pio homeless shelter in the Bronx, founded and run by Father Groeschel and the friars.

The 71-year-old friar is still recovering from severe injuries sustained when he was hit by a car in January. (See: Fr. Groeschel, Hit by Car, Still in Critical Condition.) He has resumed many of his spiritual activities, but due to his continuing health issues, is relying more on broadcast than travel to get out his message. His new show and other broadcasts are produced by EWTN, Global Catholic Network, and carried by stations throughout the world. In most areas, his call-in show is airing live, but that was not the case in Larchmont on October 24.

"When you can't get your own spiritual mentor from Larchmont on your local cable," that's outrageous, said Ms. Morris. She and others from St. Augustine's, Saints John and Paul and other area churches have let their views be known through email to top management at Cablevision and to local government officials at the tri-municipal Cable Board of Control.

By the second Sunday of the show, Ms. Morris and the other letter-writers had not heard back from Cablevision, but they were pleasantly surprised to find Father Groeschel appearing live on ESPW in his 7 pm spot. However, Father Groeschel's fans have not relaxed. "We want to make sure this isn't a fluke," said Ms. Morris, who is continuing to advocate for the show.

"We are hearing you," said Village of Larchmont Trustee Mike Wiener at the November 1, board meeting. He serves on the Cable board, which does not have control over Cablevision's programming, but does communicate with the company.

Cablevision has heard the message, confirmed spokesperson Bill Powers. He referred to ESPW as a "shared channel" which combines both religious and local programming from Westchester County municipalities.

"We are responsible for scheduling that channel," Mr. Powers told the Gazette on November 2. This means Cablevision does have control over which shows are seen at particular times.

At this point, it is unknown when or if a long-lasting change will be made. The online schedule continues to show local programming on Sunday and Father Groeschel at 2am and 9 am later in the week. However, "Cablevision is reviewing its scheduling options," said Mr. Powers.

And Ms. Morris is reviewing hers. If she can't get Father Groeschel on Cablevision, "this is a good reason to go satellite," she said.