Ex-Cantor Ordered to Pay $8.4m for Abuse; Randolph Man Admitted to Molesting Retarded Woman Left in His Care

By Sue Reinert
The Patriot Ledger [Massachusetts]
September 15, 2006

http://ledger.southofboston.com/articles/2006/09/15/news/news02.txt

A former Randolph cantor who admitted molesting a mentally retarded woman must pay $5.2 million to the victim and $750,000 to her parents.

A Norfolk Superior Court jury ruled in favor of the woman and her family yesterday after four hours of deliberation. With interest, the award will total $8.4 million, the family's lawyer, Adam Satin, said today.

The family had sued Robert Shapiro, 73, the cantor at Temple Beth Am in Randolph for 25 years, in 2003 after his assaults came to light.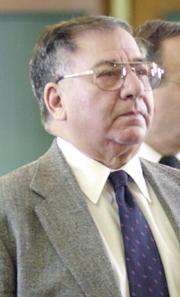 Robert Shapiro


Shapiro was criminally charged with seven counts of rape in 2003. In September 2005 he pleaded guilty to 14 counts of indecent assault and battery on a mentally retarded person in a deal with Norfolk County prosecutors.

He was sentenced to one year of house arrest and 10 years probation. Shapiro is still on house arrest, Satin said.

The verdict yesterday was important to the family "not for the money but for the vindication they didn't get in the criminal case," Satin said. "It's important for them to have a jury find that this conduct will not be tolerated because it's going to cause harm."

The victim, now 34, has the mental ability of a five to seven-year-old girl and also suffers from other disabilities, Satin said.

Any trigger that reminds her of the abuse causes her "to relive this and she obsesses about it," he said.

Shapiro assaulted the woman, then 30, between Jan. 1, 2001, and Jan. 31, 2003, first at the temple and later at his Randolph home, in his pool, in a car and at Tower Hill Center for Health and Rehabilitation in Canton, formerly known as the Meadowbrook Skilled Nursing and Rehabilitation Center, prosecutors said.

The victim and her family were members of the Randolph synagogue where Shapiro was the hazzan, or cantor.

"He was one of the few people who was allowed to be with her unsupervised because he was so trusted by the family," Satin said.

The civil suit initially was filed against Shapiro, the temple, its spiritual leader, Rabbi Loel Weiss, and the former congregation president. But the judge dismissed the other three parties saying there was no evidence to indicate that the temple defendants had reason to know that Shapiro posed a risk.

"It became clear as the case was pending that (Shapiro) had concealed his acts from the temple," Satin said.

The attorney said his office will now seek to enforce the jury award against Shapiro.

"We are aware of certain assets," he said.