Victims Want Keeler to Address Church's Sex Abuse

By Derek Valcourt
WJZ [Baltimore MD]
November 1, 2006

http://wjz.com/topstories/local_story_305185345.html

(WJZ) A sidewalk news conference took the form of a protest Wednesday, as demonstrators joined to call for Cardinal William Keeler to address issues of molestation in the Catholic church.

Wednesday's news conference was held outside the Archdiocese of Baltimore headquarters at 320 Cathedral Street.

WJZ's Derek Valcourt spoke with organizers of the demonstration who say they want Baltimore's Catholic leader to follow Pope Benedict's actions by addressing abuse in the clergy.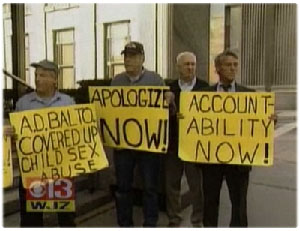 Photo by The WJZ


"The fact is that I have forgiven [my abuser], but I can't forgive my church heirarchy because they let this thing happen," said abuse victim Francis Bacon.

Survivors of sexually abusive clergy, members of the Greater Baltimore Survivors Network of those Abused by Priests (SNAP), and the Greater Baltimore Voice of the Faithful (VOTF) were all represented at the conference.

In particular, the groups want Cardinal Keeler to follow in the footsteps of Pope Benedict, who recently told Catholic bishops in Ireland to establish the truth about priests who sexually abused children.

Abuse victim Bob Russel said, "It's our feelings that if the Archdiocese and the Catholic Church cannot aknowledge and admit the sins of the past, they cannot possibly begin to state that they are going to prevent it again in the future."

A spokesperson for Cardinal Keeler said, "The Cardinal has issued heartfelt apologies both publicly and personally to victims, he's offered to meet with victims, [and] has met with several victims to apologize."

The group representing victims also wants the diocese to stop opposing legislation that would end the civil statute of limitations. That would clear the way for victims to file suits against the church.

The diocese said any victim that wants a personal apology from the Cardinal only has to call his office and ask.