Victims Who Were Sexually Abused by Priests Want Archdiocese to Acknowledge Church's Role in Scandal

By Ron Cassie
The Examiner
November 2, 2006

http://www.examiner.com/a-375129~Victims_who_were_sexually_abused_by_priests_want_arch
diocese_to_acknowledge_church_s_role_in_scandal.html

Baltimore - A half-dozen middle-aged men from the Greater Baltimore Survivors Network of those Abused by Priests and supporters from the Greater Baltimore Voice of the Faithful held a small rally Wednesday calling "upon Cardinal [William] Keeler to admit that the Archdiocese of Baltimore covered up for predator priests at the expense of its children."

Keeler — who took over the Archdiocese in 1989, long after the most recent charges of abuse — has apologized publicly for the past abusive priests' behavior. However, the victims repeated several times, he has not offered an apology for the Archdiocese's earlier role in the 1950s, '60s and '70s in failing to address the issue openly and honestly.

Francis Bacon, a retired businessman who graduated from Calvert Hall in 1952, said he didn't even tell his wife what had happened until after they had been married for 28 years. An active member of his St. Francis of Assisi parish in north Baltimore, he's forgiven the priest whom he said locked him in a classroom and gym equipment room — in the very same building where the Archdiocese now has its headquarters at 320 Cathedral St.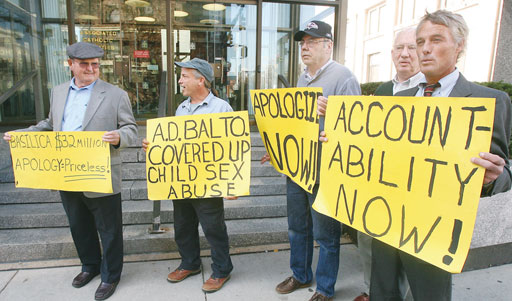 Members of Greater Baltimore Survivors Network of those Abused by Priests and other concerned Catholics rallied Wednesday, urging Cardinal Keeler to obey Pope Benedict and acknowledge past victims of sexual abuse and take steps to prevent further abuse by priests.


"I was ashamed of this my whole life, I thought it was my fault," Bacon said. "There were adults that knew this was happening and looked the other way. I haven't forgiven the Archdiocese though, but I'm trying."

Bob Russell and Tom Dembeck said Wednesday that their tormentor was former priest Laurence Brett, a religious education instructor at Calvert Hall in the 1970s. He arrived in Maryland after abuse charges chased him out of Connecticut. He fled the country in 1993.

Sean Caine, a spokesman for the archdiocese, said they have made public the names of local priests they are aware have sexually abused children, have paid for more than $100,000 in counseling for a few dozen victims who have come forward, incorporated new programs to protect children and said Keeler has offered to met personally with anyone abused by clergy.

Bacon, Russell, Dembeck and others said they are disappointed the church spent $32 million to renovate the Baltimore Basilica, which reopens this weekend, and also is hiring lobbyists to stop victims from repealing civil statute limitation laws for a hearing in the Maryland courts.

rcassie@baltimoreexaminer.com