Amid Allegations, Haggard Steps Aside

Rocky Mountain News
November 2, 2006

http://www.rockymountainnews.com/drmn/local/article/0,1299,DRMN_15_5112770,00.html

Colorado Springs — The Rev. Ted Haggard stepped aside as senior pastor of the 14,000-member New Life Church and resigned today as president of the National Association of Evangelicals amid allegations by a former gay male escort that the two had a three-year sexual relationship.

The church issued a statement saying Haggard "could not continue to minister under the cloud created by the accusations made on Denver talk radio this morning."

Haggard has said that the escort is lying.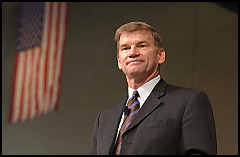 Rev. Ted Haggard of New Life Church in Colorado Springs, shown in this file photo, is temporarily stepping down amid allegations he had a three-year sexual relationship with a gay male who is a former escort. The charges come on the eve of Colorado voting on two ballot issues relating to gay marriage.
Photo by The News


The statement said he placed himself on administrative leave pending investigation, spiritual counsel, and a decision by the church's board of overseers, which consists of four senior pastors of other congregations.

"I am voluntarily stepping aside from leadership so that the overseer process can be allowed to proceed with integrity," Haggard said in a statement.

"I hope to be able to discuss this matter in more detail at a later date. In the interim I will seek both spiritual advice and guidance."

Mike Jones, 49, of Denver, made his allegations on the Peter Boyles show on KHOW 630 AM, saying he was compelled to come forward because he believes Haggard, an opponent of same-sex unions, is being hypocritical.

"After sitting back and contemplating this issue, the biggest reason is being a gay man all my life, I have experience with my friends, some great sadness of people that were in a relationship through the years," and were not able to enjoy the same rights and privileges as a married man and woman, Jones told Boyles on air.

"I felt it was my responsibility to my fellow brothers and sisters, that I had to take a stand, and I cannot sit back anymore and hear (what) to me is an anti-gay message."

Haggard told KUSA Channel 9 that "I've never had a gay relationship with anybody, and I'm steady with my wife. I'm faithful to my wife."

Jones, who told a bankruptcy judge last year that he is a self-employed fitness consultant, told Boyles that he was paid money by Haggard, who he says made frequent trips to Denver for sexual liaisons, that he has recorded voicemails and a letter from Haggard, and that he had also witnessed Haggard use methamphetamine.

Jones offered to take a polygraph examination, and Boyles said that will occur Friday during his morning radio show.

Some community leaders in the Colorado Springs had scheduled a rally this afternoon in support of Haggard but canceled the gathering at the request of the church.

New Life's board of overseers has the authority to conduct an inquiry, discipline the senior pastor, remove him from the position or restore him to ministry, the church statement said.

New Life's associate senior pastor, the Rev. Ross Parsley, will serve as acting senior pastor.

"New Life Church long ago adopted an overseer model of governance for situations just like this. People need to be patient and allow this process to unfold as it was designed to do," he said.

Haggard also led the National Association of Evangelicals. It describes its mission as extending "the kingdom of God through a fellowship of member denominations, churches, organizations, and individuals, demonstrating the unity of the body of Christ by standing for biblical truth, speaking with a representative voice, and serving the evangelical community through united action, cooperative ministry, and strategic planning."

In a message from its president, under Haggard's picture, it is stated that the NAE is composed of 60 member denominations representing 45,000 churches across America.