'It Was Horrifying'

By Ross Farrow
Lodi News-Sentinel
November 3, 2006

http://www.lodinews.com/articles/2006/11/03/news/1_jyono_061103.txt

Maria Jyono was delighted when she learned that an Irish priest was coming to St. Anne's Catholic Church. Jyono was born and raised in Ireland, but she moved to her husband's native Lodi in the 1960s.

Jyono missed her native land, so Oliver O'Grady was a welcome sight to her when he came to Lodi in 1971. They hit it off immediately.

She had no idea that O'Grady would begin sexually abusing her daughter. Nor could she have known that she would tell her story more than three decades later in a feature-length film to be shown around the world.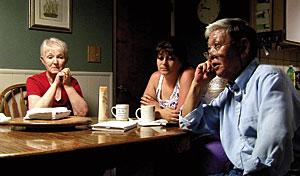 Bob, right, and Maria Jyono, left, talk with family friend Nancy Sloan about the crisis of pedophilia in the Catholic priesthood.
Photo by Courtesy


"Deliver Us From Evil" debuts today at Lodi Stadium 12, playing five times beginning at 11:35 a.m. One O'Grady victim, Nancy Sloan of Fairfield, along with Jyono and her husband Bob, will participate in a question-and-answer session after the 7:40 p.m. showing.

The movie debuted a week ago at the Tower Theater in Sacramento and in Berkeley and San Francisco. It opened on Oct. 13 in Los Angeles, New York and Boston.

The Jyono family enjoyed O'Grady's company so much that he stayed overnight many times during the 1970s at the Jyonos' home in west Lodi.

"I mean, he was the closest thing to God that we knew," she says during the movie.

But while O'Grady was on his best and most charming behavior whenever he was in the Jyono home, he sexually assaulted their daughter, Ann, for seven years while she attended St. Anne's Catholic Church and school on Walnut Street. The first offense took place when Ann was 5 years old, her mother said.

"He told Ann she was special, that it was OK with us," Maria Jyono said in a phone interview with the News-Sentinel on Wednesday afternoon. "He told her that we wouldn't love her anymore, that this is what Bob wanted."

The movie will be the first opportunity to look at O'Grady, hear his voice and listen to some graphic details of what he did during his seven years at St. Anne's and the 23 years he spent in the Stockton Diocese.

"What I see in the movie is not the man that I knew," Maria Jyono said. "It was actually sickening to see all of that. It was horrifying to listen to him."

O'Grady, 61, pleaded guilty to four counts of sexual abuse in Calaveras County in 1993. He spent half his 14-year sentence at Mule Creek State Prison in Ione. O'Grady was deported to Ireland shortly after being paroled in 2000.

The Jyonos said they heard several stories about what O'Grady did to their daughter. One time, he used a pillow to cover Ann's face so she wouldn't scream out as he was abusing her, Maria Jyono said.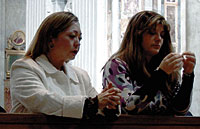 Abuse survivors Ann Jyono, left, and Nancy Sloan pray at St. Peter's Basilica in Rome in 2005.
Photo by Courtesy


"After that, I couldn't hear any more. He used that on a kid."

In "Deliver Us From Evil," O'Grady, known as "Father Ollie," confesses to sexual abusing Ann Jyono and many others during a two-week interview with director Amy Berg, who filmed him in Ireland.

The film also focuses on Cardinal Roger Mahony of the Los Angeles Archdiocese, who was bishop of the Stockton Diocese from 1980 to 1985. Excerpts from Mahony's deposition taken in Los Angeles in 2004 are included in the movie. Mahony is accused of not taking punitive action against O'Grady while Mahony led the Stockton Diocese. Instead, he transferred O'Grady to other parishes.

Bob and Maria Jyono had such a long-standing friendship with O'Grady that they refused to believe he could possibly be guilty after he was arrested in 1993.

They were so convinced of his innocence that they posted his bail.

But upon reflection, the Jyonos decided to ask Ann if O'Grady ever abused her. She said he had, and they were devastated. Hearing the news that Ann was abused is perhaps one of the most compelling parts of the movie.

"This physically, emotionally and financially destroyed us," Maria Jyono said Wednesday. "I hated to see (O'Grady) go to Ireland because it's my home. We used to go home every couple of years. It destroyed our retirement that way."

In the film, O'Grady admits to having sex with boys and girls, the youngest being a 9-month-old girl. He says he is not attracted to adults of either gender. However, it is revealed in the film that he had sex with a woman in Calaveras County to gain access to her son.



Oliver O'Grady



Ann Jyono continued to grow up in Lodi after leaving St. Anne's School. She graduated from Lodi High School and attended San Joaquin Delta College. She worked for the AAA call center in Rancho Cordova before moving two years ago to Southern California, where she is an insurance agent. She was not available for comment.

Maria Jyono was a registered nurse for 25 years at Lodi Memorial Hospital before retiring in the early 1990s. She was diagnosed with lupus shortly after learning that Ann had been abused. Her husband, who has lived in Lodi since 1948, was a quality assurance specialist for Sharpe Army Depot. He retired a year after Maria.

Bob and Maria Jyono said they haven't attended church since 1993, when they discovered that O'Grady had abused their daughter.

"Ann still goes to church," Maria Jyono said. "I think the only thing that's kept her going has been her faith."



O'Grady's parishes: 1971-93

• St. Anne's Catholic Church, Lodi.
• Church of the Presentation, Stockton.
• Sacred Heart Catholic Church, Turlock.
• St. Anthony's Catholic Church, Hughson.
• St. Andrew's Catholic Church, San Andreas.

'Deliver Us From Evil'

Today's show times at Lodi Stadium 12:

11:35 a.m.; 2:50 p.m.; 5:10 p.m.; 7:40 p.m.; 10 p.m.

Bob and Maria Jyono, along with Nancy Sloan, one of Oliver O'Grady's victims in the 1970s, will conduct a question-and-answer session in the theater after the 7:40 p.m. showing. Others from the movie may participate as well.


Despite all that has happened to her daughter, Maria Jyono said she practices her faith even though she can't set foot into a church.

"We're not anti-church or anti-Catholic," she said. "This is my church. There are a lot of good priests out there."

Maria Jyono also has kind words for Stockton Diocese Bishop Stephen Blaire and Monsignor Richard Ryan.

"I think Bishop Blaire is doing everything he can," Maria Jyono said. "He invited me to talk to a group of priests last year. I told my story.

"Monsignor Ryan has been great to us, and Mr. Blaire was brave enough to come to our house last year," she added.

The latest episode that O'Grady abuse survivors are dealing with is his rumored departure from Ireland to Canada.

"It terrifies me that he's on the loose," Maria Jyono said.

Contact reporter Ross Farrow at rossf@lodinews.com.