Selby Recuses Self, Again

By John Ford
Neosho Daily News [Missouri]
November 3, 2006

http://www.neoshodailynews.com/articles/2006/11/03/news/02self.txt

A Newton County judge has recused himself for the second time in the George Otis Johnston case.

Division III Associate Circuit Court Judge Kevin Lee Selby effectively took himself off the case for the second time.

An arraignment has been set for 9:30 a.m. Nov. 13 in Circuit Court Judge Timothy Perigo's Division I courtroom in Neosho.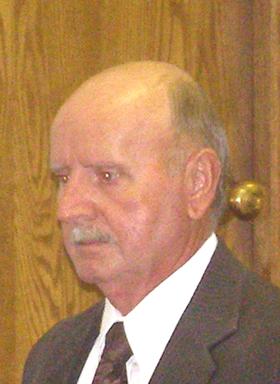 George Otis Johnston


Johnston, the pastor of Grandview Valley Baptist Church, was to be arraigned Thursday afternoon on nine felony child sexual abuse counts stemming from allegations made by a 20-year-old former member of his church.

The woman alleges Johnston fondled her breasts and genitals at least once a week for several years while she was a child. She said some of the alleged contact took place while he was tutoring the girl in algebra. She said she considered the pastor to be her grandfather - although the two are not related - as he was the spiritual leader of the community.

The move was the second time Selby has taken himself off of the case. In late September, Selby recused himself from hearing eight other felony sexual abuse charges, including seven unclassified counts of first degree statutory sodomy.

Those charges stemmed from allegations made by a 17-year-old former church member, who said Johnston sexually abused her from the time she was 8 until she left the Granby commune shortly after her last birthday.

During a preliminary hearing Sept. 18, the woman testified she was first sent to Johnston's trailer by her mother at the age of 8 while they lived at a church commune in Newtonia to receive counsel about shaving her legs. She said she was sent to his trailer several times a week while in Newtonia and later when the group moved to their present compound near East Newton High School, adding that Johnston would touch her beneath her clothes several times a week during those visits.

The woman also testified the pastor later told her he was ordained by God and it would tarnish her if she slept with another man.

"But if I slept with him, I would remain pure," she testified Johnston told her, adding she did not have sexual intercourse with the pastor.

Perigo is also presiding in that case. Pre-trial conferences have been set for Dec. 4 and Feb. 23.

Johnston also faces a felony charge of first degree child molestation as part of a ritual or ceremony in McDonald County. A preliminary hearing is set for 9 a.m. Nov. 9 before McDonald County Associate Circuit Judge John LePage.

Johnston is one of six church leaders in two area churches facing child sexual abuse charges, including sodomy, rape, child molestation and child endangerment.

Those charged include Johnston's nephew, Raymond Lambert, 51; his wife, Patty Lambert, 49; two church deacons, Paul Epling, 53, and Tom Epling, 51, who are Patty Lambert's brothers; and Tom Epling's wife, Laura Epling, age unavailable.

Stremel is also presiding in that case after LePage was disqualified. The McDonald County cases have not been bound over for trial, as Stremel is currently reviewing legal documents in the cases against the Lamberts, while the Eplings' cases are pending a Missouri Supreme Court decision on an unrelated case.

Seven felony counts were recently dropped against the Epling brothers after the defense argued that state law at the time of some of the alleged offenses imposed a statute of limitations on some of the charges. The brothers were accused of child sexual abuse incidents dating back to 1977. Five felony counts remain.