Evangelist Admits Meth, Massage, No Sex
National Evangelical Leader, Gay Marriage Opponent, Admits to Meth and Massage but Not Gay Sex

By Catherine Tsai
ABC News
November 3, 2006

http://abcnews.go.com/US/wireStory?id=2627142

Colorado Springs, Colo. Nov 3, 2006 (AP) — Evangelist Ted Haggard admitted Friday that he bought methamphetamine and received a massage from a gay prostitute who claims he was paid for drug-fueled trysts by the outspoken gay marriage opponent.

Haggard resigned Thursday as president of the National Association of Evangelicals and stepped down as leader of his Colorado megachurch while the two groups investigate the allegations.

Talking to reporters outside his house Friday, Haggard denied the sex allegations but said that he did buy meth from the man because he was curious.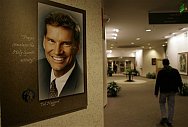 A portrait of Ted Haggard, pastor of New Life Church, locate north of Colorado Springs, Colo., hangs in the world prayer center on the church's campus, Thursday, Nov. 2, 2006. Haggard, a national evangelical leader, has allegedly paid for sex with a Denver man up to 36 times over the past three years.
Photo by The AP / David Zalubowski


"I bought it for myself but never used it," he said. "I was tempted, but I never used it."

Haggard, a married father of five, said he never had sex with Mike Jones, a 49-year-old male prostitute who sparked the scandal when he told a radio station he had had a three-year sexual relationship with the minister. He said he did get a massage from Jones after being referred to him by a Denver hotel.

Haggard resigned as president of the 30 million-member association Thursday and stepped down as the leader of the New Life Church pending investigations into Jones' claims.

The executive committee of the National Association of Evangelicals, which claims 30 million members, planned a conference call Friday and said it would release a statement afterward.

The acting pastor of Haggard's New Life Church, Ross Parsley, told congregants in an e-mail that the church's four-member board of overseers had met with Haggard on Thursday.

"It is important for you to know that he confessed to the overseers that some of the accusations against him are true. He has willingly and humbly submitted to the authority of the board of overseers, and will remain on administrative leave during the course of the investigation," the e-mail stated.

The scandal hit as voters in Colorado and seven other states are getting ready to decide Tuesday on amendments banning gay marriage. Besides the proposed ban on the Colorado ballot, a separate measure would establish the legality of domestic partnerships providing same-sex couples with many of the rights of married couples.