Trinity Responds to Cover-Up Investigation

First Coast News
November 4, 2006

http://www.firstcoastnews.com/news/local/news-article.aspx?storyid=68354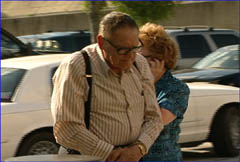 Pastor Bob Gray


Jacksonville, FL -- Trinity Baptist is responding to our First Coast News investigation of Pastor Bob Gray and claims of a cover-up.

First Coast News brought you stories of people from Trinity and alleged victims who say Trinity leadership knew Gray was a pedophile but covered it up.

Pastor Tom Messer has now issued this statement:

"I am not ignoring the situation but am committed to doing what is most important and that is to have church."

Dr. Gray is scheduled for trial later this month. That will likely be delayed.