Catholic Priest Is 'Ornery' in Court

By Jason Geary
The Ledger
November 4, 2006

http://www.theledger.com/apps/pbcs.dll/article?AID=/20061104/NEWS/611040453/1004

Bartow - A Catholic priest accused of stalking and attacking a Lakeland woman has been proving to be an "ornery" and uncooperative defendant in court.

Walter Fisher, also known as Wladyslaw Gorak, has served as a parochial vicar, or assistant pastor, at the Church of the Resurrection in South Lakeland.

After being found mentally unfit to stand trial, Fisher, 50, must pay for a Polish interpreter so that another mental health evaluation can be done to determine whether he is competent to proceed in his criminal case.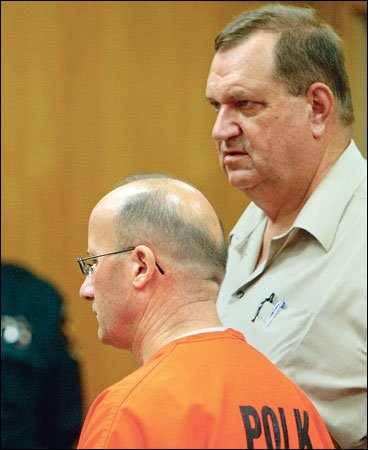 Walter Fisher, left, stands with Polish language interpreter Kazimierz Kolanko before Circuit Judge Susan Roberts in Bartow recently.
Photo by Michael Wilson / The Ledger


Because he has been determined to not be indigent, Fisher is responsible for paying for such things. He continues to receive a salary and business allowance of $1,891 monthly from the Archdiocese of Newark, N.J., court records state.

Circuit Judge Susan Roberts has been dealt the task of trying to get Fisher's criminal case to go forward. However, getting a simple "yes or no" answer from Fisher is often problematic.

Last month, she held Fisher in contempt of court.

During a hearing Wednesday, Roberts repeatedly pleaded with Fisher to be cooperative. "There must be a good Polish word for 'ornery,' " Roberts said.

Speaking through an interpreter, Fisher told Roberts that he has always been a normal person - no better or worse than anyone else.

"We are not talking about you being better or worse," Roberts told Fisher. "I am sure you are a good man. You have trouble, so you're in jail. Help me get you out. OK?"

Fisher agreed Wednesday to see if a fellow priest in Ruskin, who is handling his finances, would transfer the funds.

In February, Fisher was found incompetent to face charges of burglary with assault or battery, false imprisonment, battery and aggravated stalking.

He spent some time living at Southern Oaks Assisted Living Facility. But his attitude landed him back in jail.

The facility's administrator, Jo Ann Conerly, wrote to Roberts that Fisher was uncooperative with her staff and refused to do paperwork to get any necessary counseling or medication.

"I do not want to be in control of his pre-trial release as he will just do whatever he wants to and ignore me," Conerly wrote.

In addition, Fisher refused to help pay for his monthly rent of $1,500 at the facility, court records state.

Roberts urged Fisher to use his money to pay for his interpreter so his criminal case could continue, and he would no longer have to take up space at the jail.

"You are stubborn," Roberts told Fisher. "You have to help me get you out of here. You're not in control."

Fisher was arrested May 17, 2005, after a woman spoke with police about enduring months of harassment from Fisher.

The woman also filed a lawsuit in Circuit Court in Orlando against the Diocese of Orlando and Archdiocese of Newark.

The pending lawsuit claims the Orlando diocese ignored her complaints about Fisher and that the archdiocese did not disclose that Fisher was implicated in a previous stalking incident in New Jersey.

The woman complained that Fisher made frequent uninvited visits to her Lakeland home, investigative reports state.

On Oct. 12, 2004, the woman said Fisher forced his way into her home by breaking the chain lock on her door and pulled the telephone from the jack, an arrest report states.

He started removing his clothes, held her tightly, ripped her skirt and blouse off, and forced her to the floor, the report said.

She fought back by "kicking, punching, and biting" him, the report states.

After managing to free herself, she grabbed her skirt, ran outside and hid until Fisher left, the report states.

Fisher was transferred from the area in December 2004, but he came back to Lakeland in March 2005 and began showing up at her job, the report states.

Fisher has denied that he ripped her clothes or tried to have sex with her, according to a transcript of his statement to detectives.

Jason Geary can be reached at 863-533-9079.