Parishioner: Claims on Priest Ignored

By Lona O'Connor
Palm Beach Post [Delray Beach FL]
November 4, 2006

http://www.palmbeachpost.com/pbcsouth/content/local_news/epaper/2006/11/04/s1b_priest_1104.html?imw=Y

After two priests were accused of mishandling more than $8.6 million from a Delray Beach parish, Bishop Gerald Barbarito promised the faithful that henceforth they could expect transparency and accountability from the diocese. He noted that since he arrived in 2003, he had taken steps to strengthen diocese regulations for protecting the cash that comes from the collection plate.

St. Joseph Catholic Church parishioner Dave Schoonover and others who have sought fiscal accountability from the Diocese of Palm Beach vigorously dispute that it is pursuing transparency.

When Schoonover and a group of other parishioners took their concerns about how the Rev. Chris Allen was handling the money at his Stuart parish to Barbarito's top deputy in 2004, Schoonover's boxes of evidence were dismissed as "rumor." The Rev. Charles Notabartolo, Barbarito's vicar general, told him that Allen had the right to use parish money any way he saw fit. And the diocese told prosecutors it saw no reason to pursue a criminal case against Allen.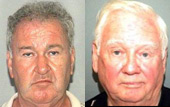 Former Delray priests Francis Guinan (left) and John A. Skehan are accused of misappropriating $8.6 million from their church.



The reaction was quite different in 2005, when diocese officials cooperated with a state attorney's office investigation into the case of two priests, the Rev. John Skehan and the Rev. Francis Guinan, for alleged misuse of more than $8.6 million of parishioners' money. They also shared their own audit with investigators, which helped make the criminal case against the priests.

Notabartolo, who became vicar general in February 2003, five months before Barbarito was named bishop, represents the bishop in administering the affairs of the diocese. Some in the diocese who know Notabartolo call him "the bulldog" or "Grizz," as in grizzly bear, for his tenacity.

"If someone needs to take a bullet for the bishop, it's him," said Schoonover, a member of St. Joseph since 1978.

A diocese spokeswoman denied that Notabartolo functions as a firewall between the bishop and people with grievances, but Schoonover said Notabartolo repeatedly refused his requests to speak directly to Barbarito.

"The bishop is very informed and aware of the goings-on in the diocese he shepherds," spokeswoman Alexis Walkenstein said.

Evidence finally gets attention

Schoonover knew that no one would take his hunch about Allen seriously, so in his spare time, using his skills as a reserve police officer, he gathered evidence. For months he spent his evenings and weekends digging credit card and bank statements out of Allen's garbage and taping torn documents together. He collected more than a year's worth of Allen's financial information, using it to build spreadsheets indicating that Allen had been spending at least three times his salary of about $26,000.

Notabartolo told Schoonover that the $100,000 difference between Allen's official income and his expenses could have been gifts from parishioners.

Among the evidence Schoonover presented were written instructions for the St. Joseph bookkeeper to cash checks into $20 and $100 bills to be placed in a "gray box" for Allen's use.

If Schoonover had not used the trump card he was holding back, he is convinced that Allen might still be running the parish today.

Though Schoonover knew of Allen's sexual purchases for months before he told Notabartolo, he chose not to bring those up first because he felt the financial issues were even more serious. But when Notabartolo rejected his financial evidence, Schoonover produced a list of homosexual toys, DVDs and other sex paraphernalia and luxuries that Allen purchased while he was pastor.

Among items Allen purchased or bid for on eBay during that period were a leather bondage harness, mink bedspreads, furniture, statues and classic Cadillacs, according to records Schoonover collected. Those who knew Allen said he was fond of Cadillacs and drove a red Eldorado, which some thought was too flamboyant a vehicle for a priest.

Notabartolo was much more interested in hearing about Allen's sex-related purchases than what he was doing with parish money, Schoonover recalled. In 2004, revelations of priestly sexual peccadilloes were fresh in the minds of diocese officials across the nation, and particularly in the Diocese of Palm Beach, still recovering from two scandals, in 1998 and 2002, involving allegations that sitting bishops fondled young boys in the past.

When Notabartolo confronted Allen with the list of sex toy purchases, Allen resigned immediately, diocese spokeswoman Walkenstein said.

Parishioner claims pattern of secrecy

"The important thing is to get the truth out there," said Schoonover, a lifelong Catholic. "But unfortunately, the people in the diocese are very secretive. They are not transparent. Notabartolo said to me several times, 'You will never look at our books. We don't think there's anything going on.'

"But it was the same stuff they were doing down in Delray Beach," said Schoonover, referring to large amounts of cash that Skehan and Guinan are alleged to have misused at St. Vincent Ferrer Catholic Church.

The diocese strongly denies there is any legitimate comparison between the Allen accusations and the charges against Skehan and Guinan.

"What we had at St. Joseph's was pure rumor," Walkenstein wrote in an e-mail response to questions.

Rick McIlwain, an investigator for the state attorney's office, found enough credible evidence in Schoonover's files to recommend that prosecutors file criminal charges against Allen.

"Schoonover did an excellent job," McIlwain said. "He made the case." Building on Schoonover's information, McIlwain interviewed four consecutive St. Joseph bookkeepers and subpoenaed Allen's other financial accounts.

McIlwain's report describes a July 14, 2004, meeting that included McIlwain, an assistant state attorney, Notabartolo, the diocese's chief financial officer and two diocese attorneys. Barbarito was out of town.

Assistant State Attorney Chris Taylor told the diocese officials that bank statements and other information Schoonover collected showed that Allen was making $2,000 cash deposits into his personal bank account.

When Taylor mentioned Allen's gray box, diocese Chief Financial Officer Denis Hamel told McIlwain that putting cash into the box before tallying the collections was contrary to normal procedure for handling parish money.

One bookkeeper said Allen once took $10,000 out of the box to transfer to a church account to cover the cost of a school bus. Another bookkeeper told McIlwain that Allen had her write a check for $10,000 to "Cash." She was so troubled by her actions that she quit.

According to McIlwain's report, "The Vicar General stated that the only way he would have a concern would be if Father Allen was taking money and using it for his own personal benefit and he does not see that in what we have shown him."

Notabartolo told the investigators he would discuss the case with Barbarito when he returned.

Two weeks later, a diocese attorney called McIlwain to say Allen had resigned and would be replaced Aug. 6.

"They said he was the pastor and he pretty much has control of the money," said McIlwain, who is Catholic. "They just slammed the door on that."

Without getting the financial information they needed from Notabartolo, state attorneys dropped their investigation of Allen.

Notabartolo later ordered a limited audit of two years of St. Joseph finances, which turned up $30,000 in questionable transactions, Schoonover said. But the audit never proved those checks were used for personal use, Walkenstein said.

A diocese press release on Sept. 23, 2004, said: "The Diocese fully cooperated with the State Attorney's investigation. Father Allen has denied that he engaged in any financial impropriety."

Allen, 54, now lives in Texas and is receiving a stipend from the Diocese of Palm Beach. He has never been charged with any crime related to his tenure at St. Joseph.



Past diocese secrecy

1992-94

Parishioners of St. Patrick Church in Palm Beach Gardens brought information about possible financial misdealings by the Rev. Francis Guinan, its pastor at the time. Vicar General Richard Murphy told them he saw nothing suspicious and suggested they drop their complaints.

Guinan and the Rev. John Skehannow are charged with misusing more than $8.6 million at St. Vincent Ferrer Catholic Church in Delray Beach.

1990-2000

Robert Schattie, financial director for the Diocese of Palm Beach, embezzled $400,000, church officials said, but the diocese quietly persuaded Schattie to pay back the money at a rate of $200 a month. As part of the deal, the diocese did not report the missing money to law enforcement authorities, even when Schattie stopped making payments after returning less than a quarter of what he took, according to church officials. Schattie's ex-wife later revealed the secret deal.

After leaving the diocese, Schattie got a similar job at the Jewish Community Center, where it was discovered that he stole nearly $65,000. Schattie pleaded guilty to grand theft, was placed on five years' probation and was ordered to pay back the JCC at least $965 a month.