Parishioners Demand Suspended Priest Be Reinstated
Father Robert Stepek Has Been Suspended for Alleged Sex Abuse with Minors

CBS 2
November 5, 2006

http://cbs2chicago.com/topstories/local_story_309172401.html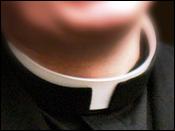 Photo by The AP


(CBS) Burbank The Roman Catholic Archdiocese of Chicago says it has removed a southwestern suburban pastor from the ministry after an independent review board found that accusations of sexual abuse against him are credible.

The Rev. Robert Stepek has been on leave from St. Albert the Great Parish in Burbank since May after allegations surfaced that he sexually abused at least two minors more than 20 years ago.

Stepek was asked to step down while the independent Review Board of the Archdiocese conducts an investigation into the claims. The Illinois Department of Children and Family Services and the Cook County state's attorney's office were also informed of the alleged abuse, which is said to have taken place in the 1980s.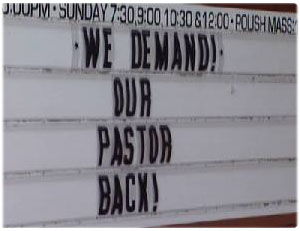 Church Supports Priest Despite Suspension for Sexual Misconduct


"The people in there are crying right now. I almost broke down because I love the guy," said parishioner Joseph Ferreri.

But as CBS 2's Mai Martinez reports, some of his parishioners are demanding he be reinstated.

The message outside St. Albert the Great Church was clear Sunday morning. Parishioners want their pastor, Father Robert Stepek back.

Inside many were emotional as they learned Stepek had been suspended because of allegations he sexually abused minors more than 20 years ago.

"The people in there are crying right now. I almost broke down because I love the guy," said parishioner Joseph Ferreri.

Ferreri and many others at St. Albert's say Stepek is falsely accused. Even though the archdiocese of Chicago says after a 6-month long investigation, they found "there is reasonable cause to suspect that sexual abuse of minors occurred."

On Saturday night, the archdiocese officially announced Stepek's suspension. But parishioners stand by him.

"He's such a good person and there's nothing that would bring me to believe that he would ever do such a thing," said parishioner Carol Jones.

"I don't think he's guilty of this. I think he is a good man," said another parishioner Mark Starostka.

Stepek supporters are collecting signatures on a petition demanding he be returned to the church. But not everyone at St. Albert's believes Stepek is innocent.

"I don't want anybody back around here that's a threat to children," said parishioner John Mitchell.

The Archdiocese of Chicago says Stepek's case will now be turned over to officials at the Vatican, and they will decide if he will be de-frocked.

His supporters are hoping the petitions they are circulating might help convince Vatican officials to keep him.