Pastor Confessed
Church Review Panelist Says Admission Came Thursday

By Chuck Plunkett
Denver Post
November 5, 2006

http://www.denverpost.com/ci_4604135

Colorado Springs - Ted Haggard, the beleaguered pastor of one of the nation's most influential evangelical churches, was fired Saturday after admitting "sexually immoral conduct."

Haggard's New Life Church issued a statement saying he had been removed. But the church's oversight board, which was investigating accusations Haggard had sex with a gay prostitute and used methamphetamine, offered no details of its findings.

Church officials said that Haggard was out of town with his family Saturday and that a letter and an apology from him would be read to the congregation today.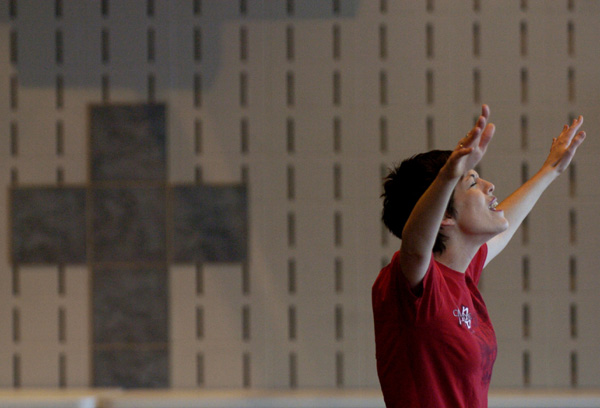 Sue Ellen Rodwick, 26, was among those who came to pray Saturday at New Life Church after Ted Haggard, the founding pastor, below, was fired.
Photo By The Post / RJ Sangosti


Haggard had denied publicly that he ever had gay sex, saying he had been faithful to his wife. As late as Friday morning, he continued to publicly deny sex with his accuser.

But a member of the four-member oversight board said in an interview Saturday night that Haggard admitted Thursday to sexual misconduct.

The board member, the Rev. Michael Ware of Victory Church in Westminster, said the board first met with Haggard and his wife Thursday and Haggard immediately confessed to sexually immoral conduct.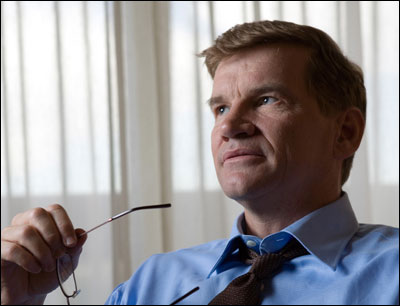 Evangelical leader Ted Haggard, in a handout photo from the New Life Church, in September 2005.
Photo By The AP / New Life Church


Ware would not describe what Haggard admitted to but made clear the probe was limited to allegations by Michael Forest Jones, an admitted gay prostitute from Denver.

Ware said more details would be shared with the congregation today.

"It was an easy decision once we discovered there was a sexual immorality," Ware said, noting that Haggard agreed dismissal was the right course. "He has a concern and a love for this church. He knows he has hurt people and he needs to heal."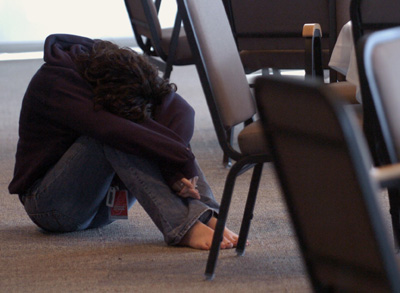 Lorelei Lyons, 19, prays Saturday at New Life Church. After an oversight board fired Ted Haggard, the church began filling with somber worshipers. I think we all do make mistakes, and I feel awful for his family, parishioner Jessica Smith said.
Photo By The Post / RJ Sangosti


Ware said he believes Haggard was not honest in his statements to the media last week because of the stress and pressure on him.

"This is a clash between divinity and humanity," Ware said. "We're all human, and we make mistakes."

The oversight board will continue to investigate Haggard so "a plan

A rising star in the evangelical movement, Haggard, 50, was at times a consultant to the White House, the author of several books, and, until he stepped down last week, president of the National Association of Evangelicals, which represents more than 30 million worshipers.

"I'm heartbroken," said Lance Coles, the church's administrative pastor. "I'm sad for him and the people who are deeply wounded. But because our church is built on the Scriptures and not a man, the potential for everyone to recover and be stronger as a result is high."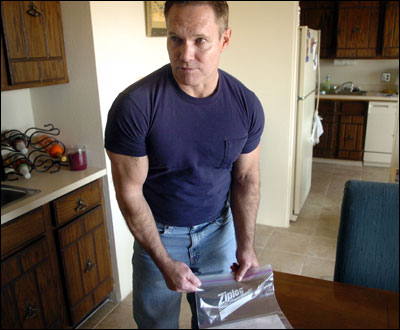 Former escort Mike Jones, talks about his alleged sexual relations with evangelical Ted Haggard. He's holding an envelope he said Haggard used to deliver cash to him.
Photo By The Post / Andy Cross


Coles said Haggard will remain a member of the church. He said there has been no talk of a severance package.

Haggard's salary for 2006, minus benefits, was to have been $138,143.

"I am proud of Ted for being honest and coming clean," said Patton Dodd, who helped Haggard write seven books and who serves as Christianity editor for Beliefnet, a religious news website.

Dodd said he talked with Haggard Saturday, but the two did not discuss the details of the sexually immoral conduct that the investigative board said had been proved.

"It could be hard to open up to your deepest, darkest secret all at once," he said.

Citing the bylaws of the 14,000-member church Haggard started 26 years ago in his home, the overseers said his conduct required them to remove him from his job.

The church's bylaws allow for the senior pastor to be disciplined or dismissed for demonstrating immoral conduct, financial misdeeds or preaching heresy.

The oversight board, composed of Haggard's peers from other churches, is charged with determining whether behavior fits those categories and which punishment is proper.

Jones said he went public because he believed there was too much at stake.

Haggard has been a vocal supporter of Amendment 43, which, if voters approve it Tuesday, would add to the state constitution the definition of marriage as being strictly between a man and a woman.

Jones has said he didn't know who Haggard was until five months ago. But once he realized who the man who went only by "Art" was and that Haggard preached against homosexuality, Jones said, he couldn't keep his silence.

In the immediate hours after the board's decision, a steady trickle of somber worshipers stopped by the World Prayer Center on the New Life Church campus.

Many were overheard discussing Haggard's troubles. Several said they would reserve judgment until they heard from Haggard himself. A pair of teenage girls cried and held each other for comfort.

"I'm really sad about it," said Jessica Smith, 16, at the prayer center. "I think non-Christians are going to have a view of us Christians as hypocritical.

"It could give Christians a bad name," Smith said. "But I think we all do make mistakes, and I feel awful for his family, and I don't want to believe it's true."

The investigative board's decision to fire Haggard came during a tumult of national media attention that ramped up significantly Friday morning when Haggard spoke to reporters from the driver's seat of his truck outside his home.

With his wife and three of his five children seated with him, Haggard denied having sex with Jones but admitted he once bought methamphetamine, decided not to use it, and threw it away.

Also Friday morning, Jones had failed portions of a lie- detector test concerning his answers to questions about the sex he said took place. Haggard seized on the failure, saying Jones had been deceptive.

Haggard insisted that he met Jones simply wanting a massage.

Ross Parsley, who had stepped in as interim pastor when Haggard was placed on administrative leave, will continue to run the church until a replacement can be found.

The overseers said they hoped to replace Haggard by the end of this year.

The $18 million sanctuary, with seating for 7,500, is the largest worship space in Colorado.

Officials carted in crates of tissue boxes Saturday evening in preparation for today's services.

Staff writers Katharine Bernuth and Kirk Mitchell contributed to this report.

Staff writer Chuck Plunkett can be reached at 303-954-1333 or cplunkett@denverpost.com.

Accuser shares voice mails

Transcript of voice-mail messages received by Michael Forest Jones, who identified "Art" as the Rev. Ted Haggard:

"Hi, Mike, this is Art. Hey, I was just calling to see if we could get any more. Either $100 or $200 supply. And I could pick it up really anytime. I could get it tomorrow or we could wait till next week sometime, and so I also wanted to get your address. I could send you some money for inventory, but that's probably not working, so if you have it, then go ahead and get what you can and I may buzz up there later today, but I doubt your schedule would allow that unless you have some in the house. OK, I'll check in with you later. Thanks a lot, bye." (Aug. 4, 2:18 p.m.)

"Hi, Mike, this is Art. I am here in Denver and sorry that I missed you. But as I said, if you want to go ahead and get the stuff, then that would be great. And I'll get it sometime next week or the week after or whenever. I will call though you early next week to, uh, see what's most convenient for you. OK? Thanks a lot, bye. (Aug. 4, 5:10 p.m.)

Haggard's fall from power began Wednesday, when Jones, 49, a bodybuilder, said Haggard had paid him for sex. Jones said that the relationship was built over monthly visits for three years and that Haggard also used methamphetamine.

"I hadn't heard," Jones said when told of Haggard's firing. "I'm sad. I didn't want to ruin his life or his family's life."