Local Diocese Prays for Stricken Moreno

By Stephanie Innes and Carla McClain
Arizona Daily Star [Tucson AZ]
November 14, 2006

http://www.azstarnet.com/allheadlines/155882

Manuel D. Moreno, retired bishop of the Roman Catholic Diocese of Tucson, was recovering late Monday following two hours of surgery that relieved pressure in his brain caused by bleeding.

Moreno, the 75-year-old bishop emeritus of Tucson, is at Banner Good Samaritan Medical Center in Phoenix.


Sister Mary Elizabeth Krone of the Benedictine Monastery prays for the well-being of Bishop Manuel D. Moreno, the bishop emeritus of Tucson, who was flown to Phoenix on Sunday night for surgery to relieve pressure on his brain.
Photo by lindsay A. miller / Arizona Daily Star


Though Moreno's eyes were closed throughout Monday and he wasn't speaking, Tucson Bishop Gerald F. Kicanas reported that Moreno blessed himself before he went into the operating room.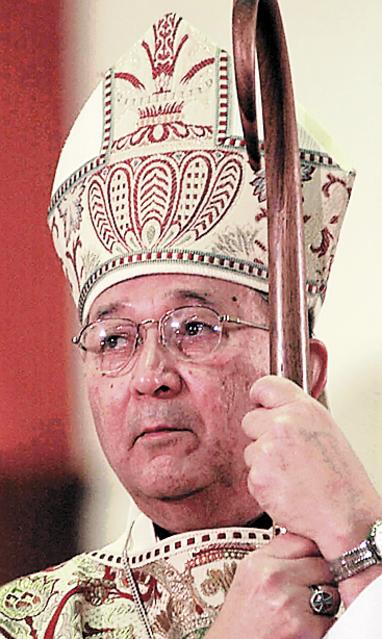 Bishop Manuel D. Moreno
Photo by The Arizona Daily Star




Causes of bleeding

• Bishop Manuel D. Moreno underwent surgery Monday night for bleeding in the brain. A suspected, though unconfirmed, cause is a brain aneurysm. Here are explanations for both conditions.

Bleeding in the brain

Internal bleeding can occur in any part of the brain. Blood may accumulate in the brain tissue itself, or in the space between the brain and the membranes covering it. The bleeding may be isolated to part of one hemisphere, or it may occur in other brain structures, such as the thalamus, basal ganglia, pons or cerebellum.

An intracerebral hemorrhage can be caused by a traumatic brain injury or abnormalities of the blood vessels, such as an aneurysm or angioma. When it is not caused by one of these conditions, it is most commonly associated with high blood pressure. In some cases, no cause can be found.

Blood irritates the brain tissues, causing swelling. It can collect into a mass called a hematoma. Either swelling or a hematoma will increase pressure on brain tissues and can destroy them rapidly.

The outcome varies highly. Death may occur rapidly despite prompt medical aid. Recovery may occur completely or with a permanent loss of some brain functions. Medications, surgery or treatments for this condition can have severe side effects.

What is a brain aneurysm?

A brain aneurysm, also called a cerebral or intracranial aneurysm, is an abnormal bulging outward of one of the arteries in the brain. It is estimated that as many as one in 15 people in America will develop a brain aneurysm during his or her lifetime.

Brain aneurysms often are discovered when they rupture, causing bleeding into the brain or the space closely surrounding the brain called the subarachnoid space, causing a subarachnoid hemorrhage. Subarachnoid hemorrhages from a ruptured brain aneurysm can lead to hemorrhagic strokes, brain damage and death.

Sources: Brainaneurysm.com and Healthline.com


At nearly 11 p.m., Kicanas said Moreno's surgery went well and that he was hoping to visit with the retired bishop today. He said the cause of the bleeding was still unclear.

Kicanas traveled from Baltimore to Phoenix on Monday to be with Moreno. He'd been attending a U.S. Conference of Catholic Bishops meeting.

Moreno has suffered ongoing health problems since his retirement in 2003. He is battling Parkinson's disease and began chemotherapy for prostate cancer last spring.

"He was with us a week ago at the staff retreat at Picture Rocks, and he was very frail," diocese spokesman Fred Allison said. "He has lost his hair, his steps were halting, but he was in good spirits and he looked very happy. That was good to see."

Moreno's 76th birthday is Nov. 27.

Kicanas was asking for prayers for Moreno and his family. Relatives, diocese priests and close friends were with him in Phoenix. He'd received the Sacrament of the Anointing of the Sick and the Prayer of the Church for healing.

"He was responsive to the prayers and participated in a beautiful, humble way," said Monsignor Thomas Cahalane of Our Mother of Sorrows Catholic Church, who performed the anointing on Sunday and is one of Moreno's close personal friends.

Moreno lives in a house across the street from the East Side parish.

"I asked him whether he was at peace and he said, 'Yes, I am at peace.' It was a very personal moment," Cahalane said. "His entire disposition is whatever God's will is, let his will be done ¡ª that has been the core of his faith and leadership."

Moreno began suffering severe headaches Sunday and was taken to St. Joseph's Hospital in Tucson, where he was diagnosed with bleeding in the brain, Kicanas said.

Among Moreno's visitors Monday was the Rev. Van Wagner, retired vicar general of the local diocese and Moreno's former seminary classmate.

Moreno, clutching a rosary, seemed to be trying to smile, Wagner told diocesan officials.

Moreno was flown to Phoenix on Sunday night because no neurosurgeons were available in Tucson.

"Personally, it was difficult to see him moved onto the helicopter and see it disappear into the night," Cahalane said.

Moreno's friends and colleagues remained hopeful that Moreno would recover.

"His vital signs are steady and strong, and the doctor led us to believe the surgery might be very helpful," Kicanas said before Moreno's surgery.

Moreno was bishop in Tucson for 21 years. He announced on Oct. 30, 2001, that, due to health problems and his imminent retirement, Kicanas would join him as co-bishop. Moreno then took early retirement on March 7, 2003.

The son of a migrant Mexican farmworker, Moreno became the fifth bishop of Tucson on Jan. 12, 1982, succeeding Bishop Francis J. Green. He is a native of Southern California and made headlines when he became bishop of Tucson because he was one of only a handful of Hispanic leaders in the church hierarchy.

During his time as bishop, Moreno was active in promoting the human rights of immigrants and illegal entrants.

He also had to face a spate of civil lawsuits alleging decades-old cases of sexual abuse by diocesan priests.

He was bishop in 2002, when the diocese reached a $14 million settlement with 10 men who said they were sexually abused as children by four members of the local clergy during the 1960s, '70s and '80s.

Moreno apologized for the abuse scandal and asked parishioners for forgiveness.

"We are putting together broken pieces. We are making new what has been damaged by sin and neglect and ignorance and betrayal of trust," he told worshippers at Our Mother of Sorrows on Feb. 3, 2002. "We will fix in the diocese what allowed the damage to take place."

After his retirement, Moreno stayed involved with Our Mother of Sorrows. He often helped in administering the sacrament of confirmation and also helped Cahalane with his duties as a parish priest. He also has maintained a small office Downtown at the Bishop Manuel D. Moreno Pastoral Center ¡ª the diocesan headquarters ¡ª and often has celebrated Mass with diocese staff members, Allison said.

" 'Humble' is always the word I think about when I think of him. He has no airs ¡ª it's a quality I have always admired," said Maria Rodriguez, a lay volunteer at Our Mother of Sorrows.

Moreno performed the marriages for four of Rodriguez's six children. "All of us are praying that if it's God's will to recover, he will," she said.

Cahalane said that when parishioners learned of the retired bishop's condition during Monday morning Mass, their reaction was tearful.

Van Tran driver Phoebe Richards, 73, included Moreno in her afternoon prayers Monday during her regular hour of adoration at Downtown's St. Augustine Cathedral.

"He was always a real mild-mannered and quiet bishop," said Richards, a lifelong Tucsonan. "I will be thinking of him."

On StarNet: Find images of Bishop Moreno in a a slide show at www.azstarnet.com/slideshow

"I asked him whether he was at peace and he said, 'Yes, I am at peace.' It was a very personal moment."

Monsignor Thomas Cahalane

of Our Mother of Sorrows Catholic Church

Contact reporter Stephanie Innes at 573-4134 or at sinnes@azstarnet.com.