About 200 Attend Special Mass for Retired Bishop

Arizona Daily Star [Tucson AZ]
November 15, 2006

http://www.azstarnet.com/sn/hourlyupdate/156166.php

About 200 people prayed for the health of ailing Roman Catholic Diocese of Tucson Bishop Emeritus Manuel D. Moreno during a special noontime Mass at St. Augustine Cathedral today.

Current Tucson Bishop Gerald F. Kicanas, who presided over the Mass, asked for God's healing grace and power. Those in attendance joined hands and recited the Lord's Prayer for the retired bishop, who is at Banner Good Samaritan Medical Center in Phoenix recovering from surgery. He had an operation Monday night to relieve pressure in his brain caused by bleeding.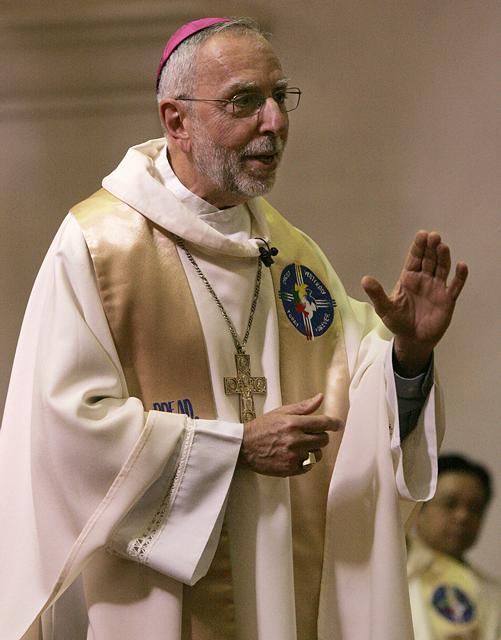 Tucson Bishop Gerald F. Kicanas presides over the Mass on Wednesday at St. Augustine Cathedral in Tucson.
Photo by Benjie Sanders / Arizona Daily Star


Moreno, 75, suffers from Parkinson's disease and recently began chemotherapy for prostate cancer.

"He's really the only bishop I knew growing up," said Veronica Natividad, a 26-year-old Catholic and city employee, who attended the Mass on her lunch hour, along with a co-worker. "I remember him from confirmation and always remember him being friendly. I am here because he's sort of the closest thing to the pope I have known."

Worshippers prayed that God's will would be done.

"I know he has confidence God waits for him at the time most appropriate for him," Kicanas said. "We are hopeful for healing but thankful for the love and lessons he's taught us — how important it is to be humble, to be thankful and to live for others."

St. Joseph's Catholic Church parishioner Juanita Perez cried as she wrote a note to Moreno on one of the cards that diocese officials had laid out on tables after the Mass.

"I loved the Mass — just to be around people who knew him and to pray for him," said Perez, 59. "Thank God he's OK. I expect to see him soon so he can bless me again."

Moreno was bishop of Tucson for 21 years. He announced Oct. 30, 2001, that, due to health problems and his imminent retirement, Kicanas would join him as co-bishop. Moreno then took early retirement on March 7, 2003.

The son of a migrant Mexican farmworker, Moreno became the fifth bishop of Tucson on Jan. 12, 1982, succeeding Bishop Francis J. Green . He is a native of Southern California and made headlines when he became bishop of Tucson because he was one of only a handful of Hispanic leaders in the church hierarchy.

While bishop, Moreno was active in promoting the rights of immigrants and illegal entrants. He also faced a spate of civil lawsuits alleging decades-old cases of sexual abuse by diocesan priests, and was bishop in 2002, when the diocese reached a $14 million settlement with 10 men who said they were sexually abused as children by four members of the local clergy during the 1960s, '70s and '80s. Those close to Moreno say the sexual abuse scandal also took a toll on him.