Excommunication Threat
Witness Gag Order in Church Sex Trial

By Jeane Macintosh and Dan Mangan
New York Post [Erie PA]
November 17, 2006

http://www.nypost.com/seven/11172006/news/regionalnews/excommunication_threat_regionalnews_
jeane_macintosh_in_erie__pa___and_dan_mangan_in_n_y_.htm

Catholic officials are threatening to excommunicate witnesses at a top New York priest's sexual misconduct trial if they dare discuss their testimony outside the church court, The Post has learned.

That extremely unusual threat is being wielded even as the priest's accuser, former Catholic high school student Daniel Donohue, and victim advocates have requested Monsignor Charles Kavanagh's church trial in Erie, Pa., be made open to the public.

As the Catholic Church's stiffest sanction, excommunication normally is reserved for the most serious offenses - such as heresy and getting an abortion - and bars its targets from receiving Communion and other sacraments.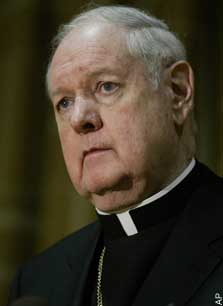 FOR SHAME: Barbara Blaine ripped a church threat to excommunicate witnesses if they talk about the trial of Monsignor Charles Kavanagh, who was relieved by Edward Cardinal Egan (above).




"Obviously, it shows that the value of these church leaders is secrecy, it's not protecting children," said Barbara Blaine, president of The Survivors Network of those Abused by Priests. "What an irony, isn't it, if the punishment is more severe for telling about being abused than for actually committing the actual abuse?"

The excommunication threat is laid out in a confidentiality agreement that witnesses at Kavanagh's trial have been asked to sign before they testify to the three priests who are acting as judges. The Post has reviewed a copy of the document.

"That's pretty heavy duty, and significant and serious," said the Rev. Thomas Green, a Catholic University professor and expert in canon law, which is the basis for the ongoing trial. Green said he has never heard of an excommunication threat being made against a lay witness at a church trial.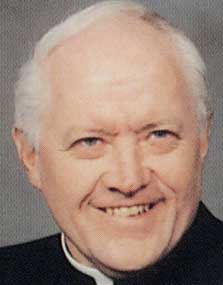 FOR SHAME: Barbara Blaine ripped a church threat to excommunicate witnesses if they talk about the trial of Monsignor Charles Kavanagh (above), who was relieved by Edward Cardinal Egan.




Kavanagh, 69, is accused of having an inappropriate, sexually tinged relationship with Donohue 30 years ago, when the Peekskill teen studied at a Manhattan school the priest ran. In one instance, Kavanagh allegedly climbed into bed with him during a trip.

After Donohue, now 42, came forward with his claims in 2002, New York Archbishop Edward Cardinal Egan suspended Kavanagh, who was the archdiocese's top fund-raiser and pastor of St. Raymond's parish in The Bronx.

Kavanagh, who denies wrongdoing, then lobbied to clear his name and have his priestly powers restored by getting a Vatican-authorized trial, which is being held in Erie to minimize publicity. If convicted, Kavanagh faces possible defrockment.

The Vatican office conducting the trial is refusing to comment, as is the New York Archdiocese.

Both Kavanagh and Donovan are expected to testify today in Erie.

E-mail: jeane.macintosh@nypost.com