Priests' Moment of Truth
Accuser Turns Tables on Tribunal

By Jeane Macintosh
New York Post [Erie PA]
November 18, 2006

http://www.nypost.com/seven/11182006/news/nationalnews/priests_moment_of_truth_nationalnews_jeane_macintosh.htm

Erie, Pa. - The man who accused the New York Archdiocese's former top fund-raiser of sexual misconduct turned the tables on a three-priest court set to hear him testify yesterday - insisting they first talk to him about sex abuse and the Catholic Church.

"I asked these three men, before I revealed my story and shared my pain, to tell me the first time they knew sexual abuse was a problem and what they had done about that problem" during their careers, Daniel Donohue told reporters after he testified.

"They did it," Donohue, now 42, said. "And it wasn't short, it wasn't sweet and it wasn't sugar-coated. There were tears all around."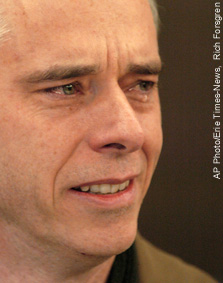 STOOD GROUND: An emotional Daniel Donohue emerges from yesterday's hearing against Monsignor Charles Kavanagh.




He said that one of the three priests serving as judges in the canonical trial was in tears as he talked about "people he knew that had been abused."

Donohue first made his allegations against Monsignor Charles Kavanagh in 2002, claiming that between 1978 and 1982, when he attended the Cathedral Preparatory Seminary in Manhattan, the priest developed an inappropriate relationship with him.

Both parties have said there was no sexual contact. However, Donohue made two allegations of inappropriate behavior, including an incident where the priest allegedly jumped atop him while Donohue was lying on a rectory couch.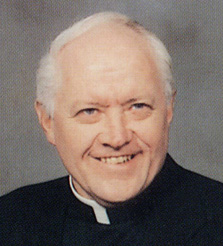 Monsignor Charles Kavanagh




Kavanagh, 69, who also testified yesterday, denies any wrongdoing.

The weeklong Vatican-authorized trial was held in Pennsylvania to avoid the media spotlight. In keeping with canon law, the trial was closed - and Donohue, who wanted it opened to the public, said that's why he challenged the three priest-judges.

"I needed to know about their integrity in a process that I don't think has much integrity," he said.

He said more memories surfaced as he spoke of the long-ago alleged events.

"In telling of one incident, the time when Charles Kavanagh lay on top of me, more memories came. It was quite a moment. It was a bit rough," said Donohue, who is married, has four kids and is a restaurant manager in Portland, Maine.

He said he did not disclose those new memories to the judges as they surfaced.

"I tried for years not to think of this, not to speak of this, but it never goes away," he told reporters. "My poor wife has seen my suffering and my screaming in the night."

He said he decided to come forward about eight years ago in Portland as he read press accounts of alleged sex abuse by priests in Boston.

Donohue, like his sister, Patricia Donohue, refused to sign a confidentiality oath before they testified.

The Post reported yesterday that Catholic officials threatened to excommunicate witnesses who discussed their testimony outside the church court.

Patricia Donohue, a theologian, said when she asked what it meant if she didn't sign, "I was told it would be sent to the Holy See and it could affect me personally and there could be papal disciplinary action." Erie Diocese spokesman Tom McSweeney said that "in no way was anyone threatened, and certainly not with excommunication, if they broke the oath of confidentiality."

After Donohue made his claims public in 2002 and a review board examined the charges, New York Archbishop Edward Cardinal Egan stripped Kavanagh of his priestly powers.

Kavanagh, wearing his clerical collar, testified before the canonical court for about an hour yesterday.

E-mail: jeane.macintosh@nypost.com