Incoming Bishop Martin Amos Prepares for Life Challenge

By Deirdre Cox Baker
Quad-City Times [Cleveland OH]
November 19, 2006

http://www.qctimes.net/articles/2006/11/19/news/local/doc455ff8f150b1c021122649.txt

Cleveland — If bets were made on the future of Bishop Martin Amos, the smart money would have placed his next assignment in Youngstown, Ohio, a city without a Roman Catholic leader for almost two years.

But when the call came from Rome, Amos, a lifelong resident of this metropolitan area, learned instead that he would be sent to Davenport. Two days earlier, Davenport had become just the fourth Catholic diocese in the United States to declare bankruptcy because of the clergy sexual abuse scandal.

Amos, 64, pulls no punches when asked about the challenge ahead. In an interview Nov. 8 in a Cleveland rectory, he said there are positives about taking on the new leadership role.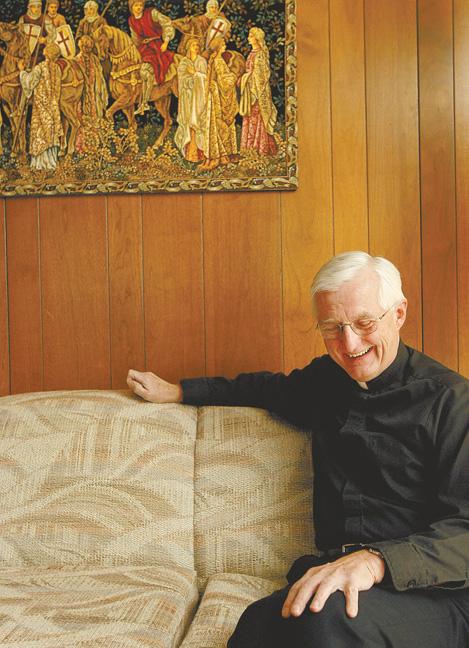 Bishop Amos does an interview at Saints Peter and Paul Parish in Garfield Heights




"I know I can't wreck it; that's a positive," he said, laughing in a charming, engaging manner.

"My first reaction was: 'Omigosh! They're not sending him to a horrible situation like that!'" Mary Ann Boland said. A member of Amos' advisory committee from his most recent post as the auxiliary bishop of Akron, Ohio, Boland was shocked by the news.

"But I then realized that's why they need a man like him," she said. "Spiritual, gentle, yet firm."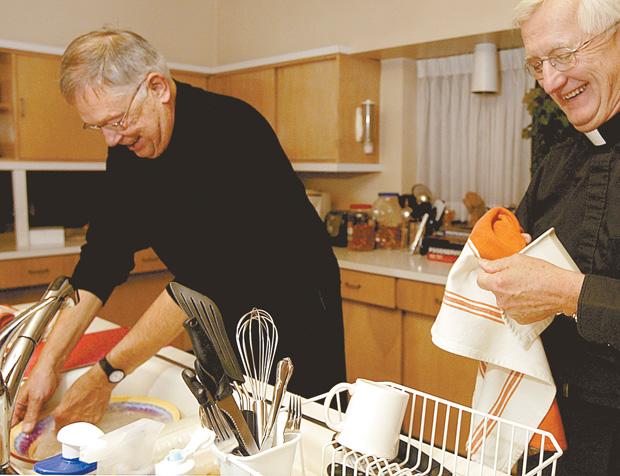 Father Ted Marszal and Bishop Amos clean-up mafter dinner at Saints Peter and Paul Parish in Garfield Heights, Ohio.




Amos will be formally installed Monday at St. John Vianney Church in Bettendorf.

Akron church officials and others from metropolitan Cleveland say that Amos, who has never lived more than a few dozen miles from the place he was born, will be good for Davenport, and the people of this diocese are lucky to have him.

Rabbi Michael Oppenheimer of Aurora, Ohio, is one fan.

"He's superb at reconciliation and is a bridge-builder," said Oppenheimer, now semi-retired but who headed a Jewish temple near St. Dominic Church where Amos ministered for 18 years.

Oppenheimer and Amos worked on an interfaith clergy group to solve problems in the public school district serving their upscale suburb of Shaker Heights, Ohio. The two also conducted several joint marriage ceremonies between people of their separate faiths.

"I love him," Oppenheimer said, simply. By allowing bi-religious couples to wed, Amos shows he is a realist, and the acts allowed the young people to retain individual spiritual heritages. "He solves problems rather than acting as an impediment."

Oppenheimer was one of two Jews invited to Amos' installation as an auxiliary bishop in June 2001. He blessed his friend in Hebrew in front of the large audience and also gave Amos a supply of royal red-colored skullcaps, known as zucchettos in the Catholic faith, kipas or yamakas to the Jewish community.

Diana Russo and Joanne Biro are active members of St. Dominic's. They describe Amos as a gentle man as opposed to a gentleman, organized and punctual with excellent management skills.

"He asked me once to do him a favor and get something from his office," Russo said. "He said it was on the right-hand side of the desk, in the second drawer, and when I found it, it was by a group of pencils all lined up and sharpened.

"After that I went home and cleaned my kitchen drawers," she laughed.

This bishop is forthright in a self-analysis.

"I am kind of a 'Type A' personality," Amos said. "I like my things just so."

He views this as a quality-of-life characteristic, but he does not require such perfect order in others.

"He never goes into anything haphazardly," Biro said, adding that Amos is a collaborative person who has a talent for eliciting the strengths of others.

Father was a milkman

The oldest of six children, Amos was born in 1941 to the late Martin and Mary Amos in a working-class neighborhood on Cleveland's west side. His father was a milkman and his mother, a devout Catholic, managed the family in the large, white English Tudor-style home with eight-foot ceilings in the front room.

The Tate Avenue residence is just blocks from Benjamin Franklin Elementary School, attended by the bishop and his five siblings. A community garden is in back of the building.

"Years ago, the bishop used to garden there," Leo Auckerman said.

A high school classmate, Auckerman described the bishop's first part-time job as pulling weeds for other members of the cooperative.

The Amos family attended Our Lady of Good Counsel Church, where the youngster assisted the priests during services.

"I always knew I wanted to be a priest," he said, "from about the age of 4 or so."

The Amos parents were hard-working, and the children also knew the grandparents, according to Mary Leonard, the bishop's younger sister. Their grandfather, for instance, was a carpenter and that's where the bishop learned the trade, she said.

The neighborhood also included shops and a movie theater.

"Marty and lots of us kids would go there on Saturday afternoons," Auckerman said.

Amos and Auckerman became classmates at James Ford Rhodes High School and are 1959 graduates of the institution that is now undergoing a $40 million renovation financed by the Bill & Melinda Gates Foundation.

Rhodes is reputed to be the best public facility in Cleveland, Auckerman said. Amos was inducted into the high school's hall of academic honor in 2003.

The teenage Amos was active in the Latin Club. During lunch, he, Auckerman and other students could pay 5 cents a day to watch part of a movie that ran over the course of a week. There is also an underground track at the school, and it's located right next to a municipal cemetery, prompting the unique football cheer, "push 'em back, push 'em back, push 'em back to the cemetery!"

Amos, set on priesthood for a career, entered Borromeo Seminary in Wickliffe, Ohio, where he earned a bachelor's degree in classics in 1964.

The Amos family is not surprised about the choices he's made.

"As a young man, Martin had an altar in our basement and used to practice Mass," said Leonard, herself the mother of nine children, each of whom was baptized by her big brother.

Pieces of a pie

In Akron, Amos got the idea of establishing a citizens advisory board from a retired bishop. The loosely organized group came together about a year after the sex abuse scandal erupted in Cleveland, 39 miles to the north.

The bishop describes group members as "kind of connected" who were very able to communicate ideas through the mass media, including newspaper editorial boards and in other ways. Boland and her friend, Marie Covington, are both in public relations and met Amos early during the five years he spent in Akron.

The auxiliary bishop wanted the Cleveland/Akron part of the diocese to cooperate with each other, and he also wanted to efficiently communicate news to the bishop. The advice was to be honest and let everyone know what's going on, Boland said.

The people of Akron know Amos as a very involved auxiliary bishop — a position found in large Catholic dioceses to help the bishop oversee the ministry needs of all.

"He has a knack for homilies and such a sense of humor," Boland said.

In one sermon, the bishop described himself as a pie, with slices such as private individual, family member, church leader, holder of values, intellectual and character.

"All of these are just pieces of him, but one thing that permeates everything is his spirituality," she said. "That's just him."

Russo, the Shaker Heights woman who met Amos when he arrived at her local church, said her entire family grew to love him. Amos has a room in the Russo home with the plaque on the door, "Bishop's Room."

"The people of Davenport just don't know how lucky they are," she said.

Amos packed up his belongings and moved to the Quad-Cities last week. The separation will be hard, he said. He will miss old friends such as the Rev. Ted Marzsal, whom he met in the seminary more than 40 years ago. He also will miss the small house that he bought and renovated in 1989 and uses as a retreat.

"It's like the death and dying thing," he said. "I won't make a major decision — like what to do with that cottage — for a year."

Deirdre Cox Baker can be contacted at (563) 383-2492 or dbaker@qctimes.com.

the journalists

Earlier this month, a Quad-City Times reporter and photographer traveled to Cleveland to meet with incoming Davenport Bishop Martin Amos, his colleagues, family and friends. The staff members also attended a farewell Mass and reception for Amos in Cleveland, where Amos has spent his entire life.

About the staff members:

Deirdre Cox Baker, 48, graduated from Iowa State University with a bachelor's degree in journalism and history. She started with the Quad-City Times in 1989 as a weekly newspaper editor and has been a reporter since 2002. She and her husband, Steve, live with their daughter, Kirstin, in rural Eldridge, Iowa.

Jeff Cook, 48, graduated from the University of Iowa with a degree in journalism. He has been a staff photographer at the Quad-City Times since 1987. He lives in Bettendorf with his wife, Jeanne, and daughters, Kelsey and Carly.

about amos

Bishop Martin J. Amos has lived in the Cleveland area for 65 years.

He is the oldest of six children in the family of Martin and Mary Amos of Cleveland and became a priest in 1968.

For most of his religious career, he was a parish priest as well as an educator, teaching Latin, history and humanities.

In 2001, he was appointed auxiliary bishop and became responsible for the southern half of the populous Cleveland Diocese.

the bishop's favorite things

Favorite part of Bible: Book of Kings, when Elijah is up on the mountain and recognizes God as he arrives on a gentle breeze. "This shows that God is where we expect to find him and also arrives during reflective times in life," Amos said, pointing to now-common lives of children and teens. "Kids today are bombarded by noise; they never have a chance to just think."

Music: Classical, semi-classical and country. "Country music is so real life," he said.

Sports: Amos is not a sports enthusiast, but the native of Cleveland, Ohio, does watch football sometimes. "I just cheer for whichever team looks good," he said.

Pastime: Carpentry, walking, gardening. "I like to plant flowers, get my hands dirty, pull weeds."

Movie: "I don't really watch them or TV," Amos said. "And I sure don't need a show channel on the TV. But I did see 'My Big, Fat Greek Wedding,' and I thought that was hilarious."

Book: "I always have a novel going, but it takes me days to get through one." Amos read Dan Brown's "The Da Vinci Code" and thought it was a good novel.

Politics: "I am not very interested in politics."

Most admired leader: The late Pope John Paul II. "I saw him in Philadelphia when he visited the U.S. and met him personally a few times."

at a glance

Productive mornings

Bishop Martin Amos is a morning person, perhaps dating to the time when he would help his father on Cleveland's milk delivery routes. He gets up by 5:30 a.m. and is in the office by about 7 a.m.

"Morning is my favorite time of day," he said. "I'm at my most creative. But never call me after 10 p.m. I'm in bed!"

Defining Catholicism

Amos uses the words of Cardinal Avery Dulles to explain his church. There are five aspects, he said: Institution, joined to Christ; Religious, with Jesus' spirit; Sacramental, a community of prayer; Herald, go out and proclaim the good news of the King; Servant, minister to the poor.

"This has always made so much sense to me," Amos said, as all parts in one place make up the Catholic Church.

On the priesthood

The hardest thing about being a bishop for Amos is that he is not a pastor anymore.

"When I was a pastor, I baptized kids and saw them graduate from high school; I was more involved in congregations. As a bishop, I do make friends and influence lives, but it's not the same."

The priesthood itself is a wonderful choice.

"You are invited into people' lives at very, very significant times," he said.

Ecumenicalism

Amos' activities with other faiths involve social, not religious, issues. He has worked with different Christian communities, with Jewish rabbis as well as Muslims in Ohio.

Bilingual abilities

Amos is able to conduct a Catholic service in Spanish, even though he is not fluent in it.

"I taught Latin for 10 years," he said, noting that Spanish is a Latin-based language. Some parishioners made him a tape, and he practiced with a Latino friend before his first attempt.

Collegiate difference

One big difference between the dioceses in Davenport and Cleveland is St. Ambrose University, Amos said. It's a diocesan university, and Amos is president of the university's board of directors, he recently discovered.

Not left or right

Amos describes his personal politics as "right down the middle" and a bit on the conservative side.

"When I was first ordained, I saw things in black and white," he said, adding that he has changed over the years. "Rules do need to be followed," he added.

about the diocese

Established: 1881

Parishes: 84, covering 11,438 square miles and 22 counties in southeastern Iowa

Schools: 18 parish-related elementary schools and seven high schools

Parishioners: 106,000

about the series

Today: Bishop Martin Amos talks about his philosophy, and friends, family and colleagues tell the story behind the man.

Monday: We look at how Bishop Amos leads and how he might lead the Diocese of Davenport.

Tuesday: Complete coverage of the bishop's installation ceremony.