A Humble Servant of God, a Comfort to His Flock

By Stephanie Innes, Kimberly Matas and Carla McClain
Arizona Daily Star [Tucson AZ]
November 19, 2006

http://www.azstarnet.com/metro/156741

Tucson bishop emeritus Manuel D. Moreno, who died at his Tucson home Friday night, was, by all accounts, a humble and gracious servant of God and a comfort to his parishioners.

But Moreno also was a man who supported his favorite baseball team, the Los Angeles Dodgers, regardless of their record, and he was a fan of the raucous Tex-Mex band Little Joe Y La Familia.

Moreno, 75, served as bishop of the Roman Catholic Diocese of Tucson for 21 years until health problems forced him to retire in 2003. The bishop suffered from Parkinson's disease and had undergone treatment for prostate cancer.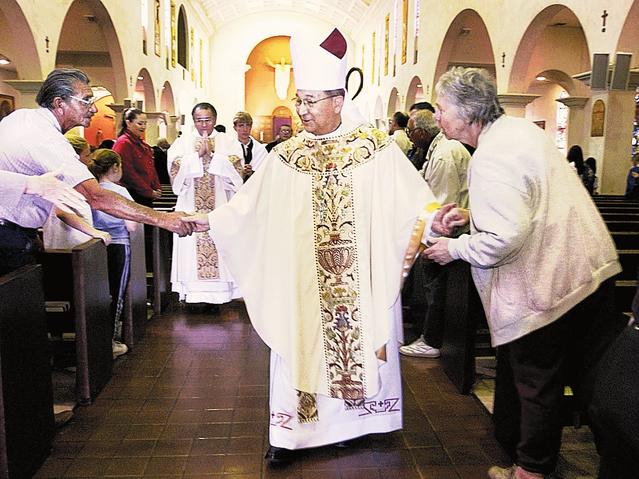 Parishioners at St. Augustine Cathedral reach out to greet former Bishop Manuel D. Moreno after a retirement Mass for him. He retired for health reasons.
Photo by Aaron J. Latham / Arizona Daily Star 2003



Public services will be held the Monday and Tuesday after the Thanksgiving holiday at St. Augustine Cathedral.

Moreno was admitted to St. Joseph's Hospital in Tucson a week ago after complaining of a severe headache. That same day he was taken to Banner Good Samaritan Medical Center in Phoenix, where on Monday he had surgery to relieve pressure in the brain caused by bleeding.

When the bleeding started again on Wednesday, Moreno's family opted to discontinue further medical treatment and return the bishop to Tucson.

An unconscious Moreno was taken back to his home by ambulance, arriving at about 6 p.m. Friday "and four hours and 25 minutes later he really went home," said his friend Monsignor Thomas Cahalane of Our Mother of Sorrows Catholic Church.

Two hours before the death, Cahalane said, he celebrated a Mass in Moreno's home for 20 to 30 friends and relatives of the bishop. Moreno died as his grandnieces and grandnephews sang a hymn, "Come to the Table of Plenty," he said.

"The descriptions we've had of his death certainly are very consoling," said Fred Allison, the diocese spokesman and a friend of Moreno's. "We Catholics hope for — and all of us hope for — the grace of a peaceful death and from the description of what we've heard, it was."

Tucson Bishop Gerald F. Kicanas said Moreno served Tucson with great generosity.

"I think what most people remember about Bishop Moreno, he was a very gentle man, a very humble man, someone who was always kind ... nothing grand, nothing extraordinary, but countless acts of kindness he showed to people."

When Pope John Paul II appointed Moreno to the position in 1982, he earned the instant attention of the local Hispanic community, becoming the first native of the Southwest and the first Hispanic bishop of the Roman Catholic Diocese of Tucson.

During his first year, he embarked on a long pilgrimage to visit every parish and school in the huge, nine-county diocese, the fifth-largest in the continental United States, covering nearly 43,000 square miles from Yuma to Morenci, and now numbering 350,000 parishioners.

The son of a migrant Mexican farmworker, Moreno succeeded Bishop Francis J. Green. During his time as bishop, Moreno was active in promoting interfaith relations, the human rights of illegal entrants, and issues of social justice, with emphasis on the social teachings of the church.

During the mid-1980s, he opened an office to help counsel, educate and pre-register illegal residents who qualified for amnesty under the Immigration Reform and Control Act of 1986, and encouraged the national Catholic Church to recognize the social and spiritual implications of the massive migration from Mexico.

He supported — with local and national church funds — the initiatives that led to the establishment of the Pima County Interfaith Council and the Yuma County Interfaith Council. In that effort, he forged a deep personal connection to the Jewish community in this area, calling the Jewish people "a gift to us beyond measure," in a letter in 2000.

Moreno also worked closely with local law enforcement agencies to address the rise in youth violence, and helped launch Tucson's first gun "buy-back" program, asking people to turn in their firearms, no questions asked.

But by 1988, Moreno had to deal with one of the major challenges of his leadership, when diocesan debt soared to nearly $30 million, due in large part to the failure of a television station established in hopes of offering family-oriented programming. The diocese owned the station for five years during the 1980s, and was forced to sell it at a tremendous loss in 1988.

That prompted a financial recovery plan, supervised by the Vatican, which finally restored the diocese to financial health 12 years later.

But financial woes paled in comparison to the sexual abuse scandal that erupted in the late 1990s, when the diocese was hit with a spate of civil lawsuits alleging decades-old cases of sexual abuse by diocesan priests.

Culminating in a $14 million settlement in 2002 with 10 men who said they were sexually abused as children by four members of the local clergy during the 1960s, '70s and '80s, that scandal took a terrible personal toll on Moreno, those close to him said. He and his predecessor, Bishop Green, were accused of failing to report abuse they knew was occurring.

"The number of acts and the awful behaviors that are alleged are overwhelming," Moreno wrote in his report to the diocese on the lawsuits in October 2001. "I was shocked and dismayed to learn of the allegations, and there is just no way I can prepare you for what is alleged ... ."

It was then that Kicanas was appointed co-bishop with Moreno, who was suffering health problems and nearing retirement. Moreno and Kicanas together created a first-ever office of Child, Adolescent & Adult Protection, as well as a Sexual Misconduct Review Board.

Less than two years later, Moreno stepped down permanently, and again expressed his sorrow.

"For the mistakes I have made, I am sincerely sorry. To those whom my actions or inactions have injured, I reiterate my contrition and offer my unending prayers for healing," he said on March 7, 2003, when he announced his retirement at St. Augustine Cathedral.

Despite the problems Moreno faced during his tenure, friends, colleagues and parishioners remember his strengths.

"He is the most gentle person I have ever known, and the only person I have ever known who never, not once, had a disparaging, harsh or unkind word to say about anybody, even in the most stressful times," Allison said. "He just had an ability to absorb responsibility and never made excuses for anything that landed on the bishop's desk. That was so illustrative of his faith in the cross."

After his retirement, Moreno lived in a house across the street from Our Mother of Sorrows and stayed involved with the East Side parish. He often helped in administering the sacrament of confirmation and also helped Cahalane with his duties as a parish priest.

He also maintained a small office Downtown at the Bishop Manuel D. Moreno Pastoral Center — the diocesan headquarters — and often celebrated Mass with diocese staff members, Allison said.

An enduring memory for Cahalane will be of seeing Moreno before the 6:30 a.m. Mass.

"I will remember him in my mind's eye early in the morning ... when he would walk around the sidewalks of the parking lot on a prayer walk with his cane in one hand and his rosary beads in the other," he said.

Maria Rosas, who attends St. John the Evangelist Catholic Church, said Moreno occasionally wrote letters that would be read during Mass.

"He would write the letters like he was writing to his children," Rosas said. "I was touched by that. He could reach out and touch his parishioners. He was that faithful and that strong; he could reach out and touch us.

"He would look at parishioners with this kind of kindness, like he knew what was going on inside of us," she said.

Moreno battled ongoing health problems in the years before his death. In the fall of 2003, illness forced him to withdraw from the Mass he was scheduled to celebrate in honor of the Tilma of Tepeyac relics tour. Several months ago, he began chemotherapy for prostate cancer. He attended a diocesan retreat just a month ago, and his colleagues described him as frail. He had lost his hair and his steps were halting.

"We last talked Nov. 2. I asked how he was and he said he was OK .... I know that he was suffering, but he didn't say so. He asked about me, he always asks how I am," said Maria Rodriguez, a lay volunteer at Our Mother of Sorrows.

Cahalane said Moreno maintained his sense of humor and good cheer even in the last stages of his illness.

Recently, Cahalane said, children at Our Mother of Sorrows invited Moreno to the church for a living rosary in his honor. Instead of moving to the front pews, Moreno sat at the back of the church, too tired to move forward, saying: "I feel wiped out, like the Dodgers."

As a Los Angeles native, "he was very much a Dodgers fan," Cahalane noted.

And he had a fondness for regional music.

"His friends and co-workers here at the diocese yesterday were talking about the joy of his life," Allison said Saturday.

He loved Tex-Mex, "really happy, joyful, vibrant music," Allison said, adding, "I hope after the funeral Mass is over and we gather for the reception we can listen to some Little Joe Y La Familia."

Moreno's brother, Fernando, recently moved to Tucson to be close to him as his health grew more fragile, and was with him in the hospital.

Bishop Moreno is survived by sisters Pilar (Ray) Santana and Juanita (Paul) Updegraff of California, and brothers Raymond (Margarite) Moreno of California and Fernando (Nora) Moreno of Marana.

E-mail: sinnes@azstarnet.com