City of Albany Sued by Leader of Priest Abuse Victims Group

Capital News 9 [Albany NY]
November 20, 2006

http://www.capitalnews9.com/content/top_stories/default.asp?ArID=198282

The leader of a clergy abuse victims group is suing the city of Albany. Mark Lyman was arrested back in April after protesting outside of Holy Cross Church.

The DA's office eventually dropped the charges. But now Lyman, the local director of the Survivors Network of those Abused by Priests, says his civil rights were violated, he was assualted, and that his bail was set at an excessive amount.

Lyman and attorney John Aretakis, met to discuss the $5 million lawsuit against the city.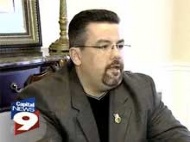 Mark Lyman




"This was an attempt by the Albany Diocese, coordinated with the Albany Police Department to harass and intimidate me and those who are advocates for victims of abuse. And it is my hope that by filing this suit we'll expose that and we'll bring forward the injustices that occurred the day I was arrested," Lyman said.

Others named in the suit specifically are Mayor Jerry Jennings, Chief James Tuffey, former Chief James Turley and several other officers. The Albany Roman Catholic Diocese is not named.