Ex-Parish Leader Quits Diocesan Council
Protests How Closings Handled in Medford Area

By Charles A. Radin
Boston Globe [Massachusetts]
November 29, 2006

http://www.boston.com/news/local/articles/2006/11/29/ex_parish_leader_quits_diocesan_council/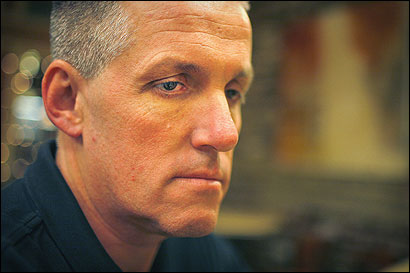 "I misled my parishioners," Jack Coakley said in his letter resigning from the pastoral council of the archdiocese.
Photo by Evan Richman/ Globe Staff


A leader of the now-closed Sacred Heart Parish in Medford has quit the pastoral council of the Roman Catholic Archdiocese of Boston to protest what he describes as the church's failure to ease the pain of parish closings in the Medford area.

Jack Coakley, 46, said yesterday that he resigned five weeks before the end of his two-year term both as a protest and as a last-ditch effort to get Cardinal Sean P. O'Malley to pay attention to young and middle-aged people he said are walking away from the church because of parish closings and other problems. Coakley submitted his resignation last Friday.

The council is a group of about 50 members of the laity and six clergy that advises O'Malley on matters of concern at the parish level in the archdiocese.

Coakley was cochairman of the Sacred Heart parish council when the archdiocese announced in 2004 that Sacred Heart and about 80 other parishes would be closed and their members merged into other congregations as part of the archdiocese's efforts to cope with a financial crisis caused by declining church attendance and the clergy sexual-abuse scandal.

Coakley said yesterday that he persuaded parishioners and students from Tufts University, which abutted Sacred Heart, not to occupy the church to prevent its closing. Instead of becoming a protester, he said, he took the advice of archdiocesan officials to join the pastoral council and work through the system.

"I did the wrong thing," Coakley said in his resignation letter to the Rev. Robert T. Kickham, O'Malley's secretary. "I misled my parishioners and was fooled by you and others that I could somehow help make a difference by serving" on the pastoral council.

"They were very, very effective at wearing us down and making us go away," he said.

Sacred Heart was the first parish in the archdiocese to close in the downsizing, in part because Coakley and the Rev. Robert J. Doherty, the pastor, urged congregants to go along with the closure order.

Since the reconfiguration began, the number of parishes in the archdiocese has been reduced from 357 to 296. Twelve planned closings are still being appealed to church authorities in Rome.

Archdiocesan officials would not comment yesterday on the current situation for Medford Catholics. They praised Coakley and his efforts on the pastoral council.

Charles A. Radin can be reached at radin@globe.com.