Catholic Bishop Asks Churches to Dedicate Advent to Victims

By Gary Soulsman
News Journal [Wilmington DE]
November 30, 2006

http://www.delawareonline.com/apps/pbcs.dll/article?AID=/20061130/LIFE/61130017/-1/frontpage

Catholic Bishop Michael Saltarelli is asking parishes and missions to dedicate the Advent season to the victims of clergy sexual abuse.

As head of the Diocese of Wilmington, the bishop is also asking each pastor to celebrate a special Advent prayer service, Mass or Eucharistic Holy Hour for the healing of those who've been harmed by clergy sexual abuse.

"Our efforts to protect God's children must be complemented by these spiritual efforts on behalf of victims and their families," the bishop said today.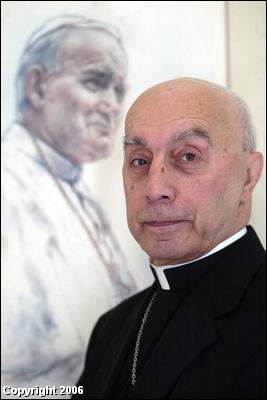 Catholic Bishop Michael Saltarelli wants parishes and missions to devote the Advent season to the victims of clergy sexual abuse
Photo by The News Journal/Suchat Pederson


Advent, a period of preparation for the birth of Jesus, begins in the diocese's 57 parishes on Sunday and continues until Christmas. It's a time of joy but also one of penance to prepare for Christmas, said Bob Krebs, diocese spokesman.

"This season of hope and expectation is an ideal time for us to intensify our prayers for the healing of victims," Saltarelli said.

He includes "parents, spouses, brothers and sisters, sons and daughters, extended family and friends of victims who have carried a variety of painful crosses that are connected to their loved one's experience of sexual abuse."

In the last few weeks, sexual abuse has received renewed attention with the bishop's release of the names of 20 priests with credible allegations against them.

Information about the diocese and efforts to protect children and reach out to victims is available at www.cdow.org.

Contact Gary Soulsman at 324-2893 or gsoulsman@delawareonline.com