Cinematical Exclusive: Deliver US from Evil Director Amy Berg on the LA Archdiocese Payout

By Kim Voynar
Cinematical [Los Angeles CA]
December 3, 2006

http://martha.fischer.cinematical.com/2006/12/03/cinematical-exclusive-deliver-us-from-evil-director-amy-berg-on/

Yesterday we told you about the big new out of Los Angeles: The Los Angeles Archdiocese announced the payout of $60 million in reparations to 45 victims of clergy sexual abuse. Cardinal Roger Mahony, who heads the Archdiocese, was prominently featured in the Oscar short-listed documentary Deliver Us from Evil, for his alleged role in moving pedophile priest Father Oliver O'Grady from parish to parish, where he prieyed on hundreds of young victims.

The Los Angeles Archdiocese currently has over 500 pending cases from alleged victims of clergy abuse, many of them naming Mahony in his supervisory capacity. Cinematical managed to track down Deliver Us from Evil director Amy Berg, who very graciously agreed to share with our readers her thoughts on Mahony, the payout by the Archdiocese, and the role her film may have played in helping to bring about the settlement.

Cinematical: We've reported on Cinematical about how your film stirred prosecutors' interest in Mahony and the LA Archdiocese. Do you think your film had an impact on the Archdiocese announcing today a payout of $60 million to 45 abuse victims?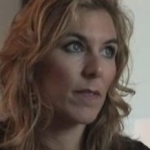 Amy Berg



Amy Berg: I think the attention garnered by the film and the negative and neglectful tone of Cardinal Mahony in my film helped to expedite the settlement. Cardinal Mahony has been fighting to delay settlement for four years now, so I think we can assume the settlement shows how negative public attention is very damaging to him.

It is my understanding that the settlement was not 100% confirmed and that the church released this to the media before it is completely done and this has upset the survivors and their advocacy group. They basically woke up to this and read about their own settlement in the newspaper. Whose news was this to break? This statement sees like it should have been the victims statement to make if forgiveness and reparation are what the church is after. The mere fact the church release the statement seems like a media play in itself.

Cinematical: You tried repeatedly during the filing of Deliver Us From Evil to get cooperation (or at least comment) from Mahony and the Archdiocese, and you included footage of Mahony being depositioned in your film. Based on all the research you've done, do you feel that Mahony knows more than he's admitted to? Do you think the personal files that Mahony has fought so hard to keep out of court will ultimately lead to his downfall, as happened with Bernard Law?

Amy Berg: The files you refer to have still not all been released. The DA has been fighting for four years years to see them. Miraculously, the Boston documents were recovered by the Boston Globe so the expeditious handling of Law had to happen. I saw some of the documents in question ... and saw many omissions in ther documents.

Cinematical: You worked a lot with the victims you profiled for the film (none of whom, so far as I know, are a part of the settlement, since it only affects cases prior to 1954 and after 1986). Do you know whether the victims featured in your film are among those Mahony has reportedly met with and personally apologized to?

Amy Berg: They were not. It is my understanding these cases were hand-picked by the church and they were cases where there was no insurance coverage, so the church will not be able to pay them out.

Cinematical: What's your take overall on the Archdiocese making reparation in these cases? Do you think it indicates a willingness on Mahoney's part to finally acknowledge his own complicity in the clergy abuse that happened under his watch? Or do you agree with Barbara Dorris, spokesperson for the survivor's network, that this is Mahony operating under his usual MO, and trying to protect himself from further scrutiny?

Amy Berg: Willingness to acknowledge complicity would not be a settlement of only 10% of the cases. This leaves more than 90% ... I think it would be unfair for me to say if he has or has not made reparation. The only person(s) qualified to answer that are the 45 people who will get settlements. However, the fact that Mahony said these represent "A very special time for the victims" is a very strange statement. Who is Mahony or Tamberg (his spokesperson) to speak for them?