O'Grady Victim from St. Anne's Sues Irish Archdiocese

By Ross Farrow
News-Sentinel [Lodi CA]
December 4, 2006

http://www.lodinews.com/articles/2006/12/04/news/1_ogrady_061204.txt

A man who says he was sexually abused by former priest Oliver O'Grady when he was a child attending Lodi's St. Anne's Catholic Church has filed suit against an archdiocese in Ireland where O'Grady attended seminary some four decades ago.

The lawsuit filed recently in Alameda County Superior Court in Oakland, alleges that leaders at the Archdiocese of Cashel and Emly knew that O'Grady was a sex abuser when he attended seminary there in the 1960s — before he ever came to Lodi and four other parishes in the Stockton Diocese.

"These guys knew he was a molester," said Orange County attorney John Manly, who filed the lawsuit on behalf of his client, who is named only John Doe because he doesn't want his identity disclosed.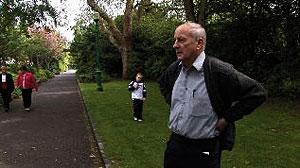 Former Lodi priest Oliver O'Grady, shown being interviewed in Ireland for the recently released documentary "Deliver Us From Evil," which depicts his life as a pedophile. One of his victims, who said he was sexually abused by O'Grady in the 1970s, has sued an archdiocese in Ireland over O'Grady's conduct.



The suit was filed in Oakland because all Northern California clergy abuse cases have been consolidated there.

"For the people in (the Stockton area), this is a very important case," Manly said. "This resulted in dozens and dozens and dozens of people's lives being ruined."

O'Grady was a priest at St. Anne's Catholic Church from 1971 to 1978. He later served at Church of the Presentation in Stockton, Sacred Heart Catholic Church in Turlock, St. Anthony's Catholic Church in Hughson and St. Andrew's Parish in San Andreas.

He served seven years at Mule Creek State Prison in Ione after pleading guilty in 1993 to four counts of sexual abuse with children under 14 in San Andreas. O'Grady was paroled from prison in late 2000 and deported to Ireland a short time later.

His life is depicted in the recently released documentary "Deliver Us From Evil," in which director Amy Berg interviewed O'Grady and some of his victims, including Ann Jyono, who grew up in Lodi and was sexually abused while attending St. Anne's Church and School.

Manly said he went to Ireland twice and took depositions of the archdiocese's bishop, vicar general, seminary president and former president, plus two other individuals.

Manly said he found pictures of O'Grady dressed in drag while O'Grady was in seminary during the 1960s in Ireland. He molested many boys and girls wearing women's clothes, according to the lawsuit.

In a response filed in the Oakland court, the Cashel and Emly Archdiocese claims that the seminary O'Grady attended is not in the archdiocese's jurisdiction.

"It will be interesting whether the Stockton Diocese was aware (of O'Grady's abuse in Ireland)," said Nancy Sloan, Sacramento-area spokeswoman for Survivors Network of Those Abused by Priests.

"I believe there are plenty of good people out there that you aren't desperate enough to hire priests who endanger children," said Sloan, whom O'Grady sexually abused in the 1970s.

Contact reporter Ross Farrow at rossf@lodinews.com.