Yeshiva Denies Knowledge of Alleged Sexual Abuse
Respected Rabbi Faces Sex Assault Charges

By Magee Hickey
WCBS [New York]
December 8, 2006

http://wcbstv.com/watercooler/local_story_342135916.html

(CBS) Brooklyn Rabbi Joel Kolko was a well-known and well-respected rabbi at the Yeshiva and Mesivta Torah Temimah, according to the Yeshiva's executive director. But Kolko, also known as Yehuda, is now facing four counts of sexual abuse and endangering the welfare of a minor.

Police say a 9-year-old boy is claiming that he was sexually abused by Rabbi Kolko when he was in first grade during the 2002-2003 school year.

For 37 years, Rabbi Kolko, was a first grade Hebrew studies teacher and was also an assistant principal.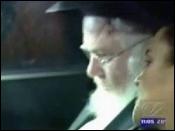 Joel Kolko, 60, taught at the private school for boys, Yeshiva-Mesivta Torah Temimah, and was arrested on four counts of sexual abuse and endangering the welfare of a minor, police said.
Photo by The CBS



When word of these allegations of sexual abuse first surfaced last May, Rabbi Yaakov Applegrad, the executive director of the Yeshiva, said Kolko, 60, was asked to leave.

"At no time did the Yeshiva have any knowledge of anything alleged against Rabbi Kolko," said Rabbi Applegrad. "Nor did any parent ever raise a complaint against Rabbi Kolko."

Applegrad refused to answer questions, on advice of his lawyer, because a $10 million lawsuit has also been filed against the school, claiming the Yeshiva protected Rabbi Kolko and failed to protect the first grader from sexual abuse and what the lawsuit claims were "lewd and lascivious acts," despite knowing the rabbi's "dangerous propensities."

"If something did happen, we sympathize with the child and are confident that the judicial system will handle the matter appropriately," Rabbi Applegrad said.

Some people who live in the community were upset by the arrest:

"It's a big shame for the Jewish community for something to happen like this," said one man, who did not want to be identified.

"It's horrible," Brooklyn resident Louise Geller said. "I'm really surprised that something like this would happen here. I live here because it's safe."

Rabbi Kolko is also being sued by two former students in Federal Court.