Ex-Choir Leader's Trial in Sex Case Goes to Jury

By Ryan Lillis
Sacramento Bee [California]
December 8, 2006

http://www.sacbee.com/101/story/89485.html

Joel Natividad was hired in early 1998 to help lead the choir at Prayer Mountain Community Church, a Pentecostal church that once sat on 23 secluded acres near Rescue. He soon developed a friendship with a 12-year-old member of the church, asking about her life and family and helping the young girl with her singing.

In the months that followed, however, Natividad transformed from a teacher and confidant to "an opportunistic predator" who groped and eventually had sex with the girl at least 55 times over the next two years, a prosecutor said during the closing arguments of Natividad's trial Thursday.

Natividad, now 46, stands charged with 23 counts in Sacramento Superior Court, ranging from lewd and lascivious acts with a child younger than 14 to unlawful sexual intercourse with a minor. His case is in the hands of a jury, which will begin deliberating on Monday.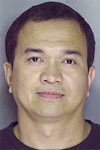 Joel Natividad



Natividad, who could face 45 years in prison, also is charged with having sex last year with a 17-year-old girl who was a resident of an Orangevale group home where he worked. The alleged victim in the church case came forward after reading about the Orangevale incident, the victim, now 21, told The Bee in an interview.

"At the time, I thought it was my fault," said the victim, whose name The Bee is not publishing.

In the years since, she told only a boyfriend about the alleged abuse, but said that "looking back, I know what happened was wrong."

The young woman, who testified over the course of three days, said Natividad was "a great guy, very outgoing, energetic and charismatic" when she met him. Deputy District Attorney Caryn Dubke said Natividad took advantage of that trust and that he first touched the young girl in his car.

Some of the alleged attacks occurred as Natividad drove the girl home from a Bible study group in Elk Grove, Dubke said.

Natividad eventually told the girl that "God designed them to be together," that theirs was "a God-sanctioned relationship" and that he loved her, Dubke said. After her 13th birthday, Natividad allegedly had sex with her for the first time in a Sacramento hotel, the prosecutor said.

After the girl turned 14, Natividad stopped "respecting the sacred nature of the relationship," Dubke said. When the young girl began to resist, Natividad fought back, at one point climbing in her bedroom window to have sex with her, the prosecutor said.

"What kind of a person would do that? A predator," Dubke said.

The girl developed depression, cutting herself "to divert her mind from how wrong this was," Dubke said.

Natividad's defense attorney, Kelly Babineau, said her client admits to having sex with both girls, but that he and the victim from the church were in love.

"He is an immature, insecure man," she told the jury. "But not to the point he has been charged in this case."

Babineau told jurors there were holes in the alleged victim's testimony regarding the timing of the attacks that prosecutors said occurred when the girl was 12. She also questioned whether the 17-year-old girl in the group home wanted a relationship with Natividad.

According to authorities, Natividad got into that girl's bed at the Stanford Home for Children in the early morning hours of Sept. 13, 2005. He rubbed her back, turned her over and had sex with her, Dubke said.

"She lay there in shock," Dubke said. "She couldn't talk. She was speechless."

Natividad would later tell a Sacramento Sheriff's Department detective that it was "a weak moment," Dubke said. The prosecutor said that even if the girl allowed the sex, consent is not a defense against charges of having sex with a minor.

A third girl testified during the trial that Natividad had a two-year relationship with her when he was living in Virginia.

"There were three victims left in the wake of the defendant's predatory actions," Dubke said.

The Bee's Ryan Lillis can be reached at (916) 321-1085 or rlillis@sacbee.com.