Diocese to Sell off Properties

By Deirdre Cox Baker
Quad-City Times
December 9, 2006

http://www.qctimes.com/articles/2006/12/09/news/local/doc457a5982a02b3891890689.txt

The home of Bishop Martin Amos and the headquarters of the Catholic Diocese of Davenport top the list of assets to be sold to raise funds to help victims of sexual abuse.

"As I was doing some 'housework' over the weekend, I knew this was much more space than I needed," Amos wrote Friday in an e-mail message to the Quad-City Times. "I've asked that rather than try to purchase back this property, we look for something smaller as the bishop's residence."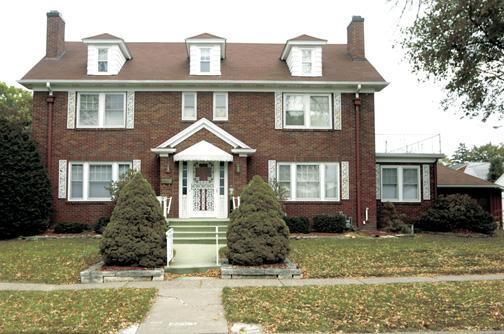 The home of Davenport Diocese Bishop Martin Amos is this duplex at 2761 Scott St. The property is valued at $196,260.
Photo by The Quad-City Times File


Amos could live close to his office in a "fixer-upper" home, a place where he would put his carpentry skills to use. "It's just less for him to take care of" attorney Richard Davidson said, noting that the bishop has no housekeeping staff.

Three residences and the St. Vincent's Pastoral Center were considered in a proposal discussed Dec. 4 by the Diocesan Corporate Board and its Finance Council, said Davidson, the diocese's bankruptcy attorney, who is with the Lane & Waterman law firm in Davenport.

"This is a first step," Davidson said of the process that will liquidate all diocesan assets and put the money raised in a special fund for victims of sexual abuse by priests.

The most expensive property is the tree-filled St. Vincent's center, valued at $4.1 million and located at 2706 Gaines St.

Among the homes is one at 3718 Telegraph Road, which was built in 1820 and includes 25.5 acres, valued at $110,630. The current bishop's home is a brick duplex at 2761 Scott St., valued at $196,260. A third residence, 803 E. 39th St., which is valued at $81,740, was built in 1900 and is maintained by the Mount Calvary Cemetery Association.

The Dec. 4 proposal includes a plan for three area real estate firms to sell the properties.

The diocese headquarters on Gaines Street may be the most emotional sale. One building formerly was an orphanage operated by the Sisters of Humility congregation, according to Char Maaske, the diocese's chief financial officer. It also includes apartments for retired priests.

"This place is a good situation for us, but under the terms of the bankruptcy, it will sell to the highest bidder," Maaske said.

How best to liquidate the center is still under discussion, Davidson said.

The house on Scott Street was purchased in the late 1990s and used by retired Bishop William Franklin, said David Montgomery, the diocesan spokesman. The diocese's leader has lived in various homes over its 125-year history. These include a mansion on Clay Street and what's now known as the Bishop's House Inn, a facility at 1526 N. Brady St. owned by St. Ambrose University.

The real estate listing comes in December as the diocese continues the bankruptcy process, started with a mid-October filing in the federal bankruptcy court for the Southern District of Iowa.

It is also the method preferred by Judge Lee Jackwig, Davidson said. "She likes cases to be handled expeditiously and it's not just with this one," he said. "It's been two months now and we need to keep moving along."

Deirdre Cox Baker can be contacted at (563) 383-2492 or dbaker@qctimes.com.

What's next

Feb 8, 2007 — Deadline to file the reorganization plan. "This is when we will tell everyone how we propose to distribute the money we raise for the claimants," said Richard Davidson, bankruptcy attorney for the diocese.

Feb. 10, 2007 — Deadline for victims of sexual abuse by priests to file claims. To find the victims, the diocese plans to advertise nation-wide. "We want to make sure that any victim who wants a share knows they are entitled," Davidson said, noting this deadline could be extended.