'Doubt' Arouses a Buzz
Questions of Guilt, Innocence Linger As Curtain Goes down

By Michael Morain
Des Moines Register [Des Moines IA]
December 12, 2006

http://desmoinesregister.com/apps/pbcs.dll/article?AID=/20061212/ENT01/612120357&lead=1

Basically, it's her word against his.

She's a prickly old nun, the principal at a Catholic school in the Bronx in 1964. He's a popular young priest.

She claims he messed around with a 12-year-old boy, the school's first black student. He claims he did nothing wrong.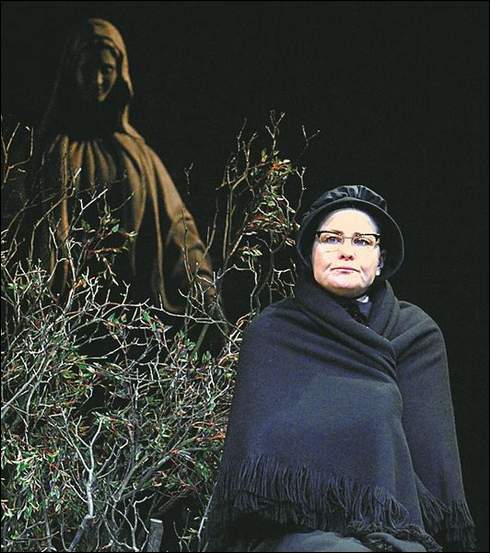 Cherry Jones won a Tony Award as Sister Aloysius in "Doubt" on Broadway.
PHOTOS SPECIAL TO THE REGISTER



Neither has a scrap of proof.

"Doubt," the play that begins a five-day run Wednesday at the Civic Center of Greater Des Moines, unfolds with all the tension of a jury trial.

Only, there's no verdict.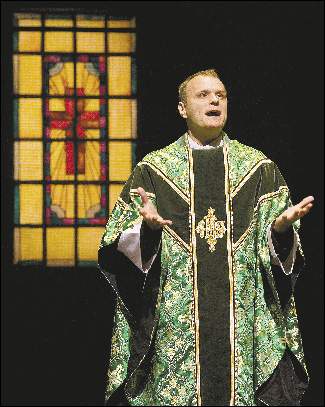 Chris McGarry plays Father Flynn in John Patrick Shanley's probing drama.



In fact, when audiences left performances on Broadway and later during the play's national tour, they nearly always split into the same percentages: A quarter side with the nun, a quarter side with the priest and half don't know which one to believe, according to Cherry Jones, who won a Tony for her starring role as Sister Aloysius.

She and the rest of the cast used to poll audiences after the shows - until the playwright, John Patrick Shanley, got wind of it and made them stop.

"It was very naughty of us, but it was so much fun," Jones said during a recent interview from San Francisco.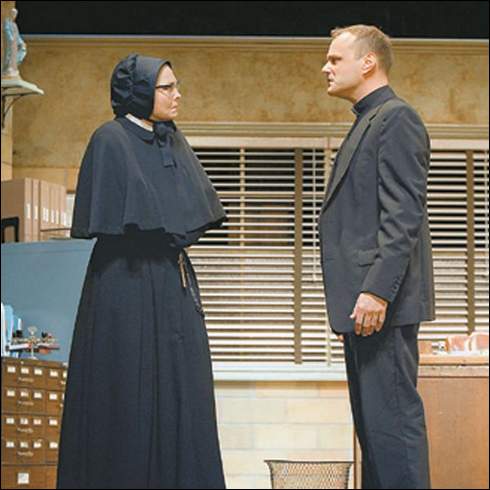 Cherry Jones and Chris McGarry play a nun and a priest caught in a Bronx Catholic school scandal.



"People were sort of thunderstruck, because when the play ends — unless it's a very vocal audience — everyone sort of feels that everyone else thinks what they think. And when they start discussing it as they leave the theater, they're just astounded to realize that other people have all these different opinions about what they've just seen."

Which is part of what has made the play so successful.

When it premiered off-Broadway in November 2004, nobody knew what to expect.

Half a year later, the show had collected a wagon-load of awards, including a Pulitzer Prize for Shanley's script and three Tony Awards in addition to the one for Jones.

The plot hinges on a specific — and fictional — situation, but the play tackles a broader question: What happens when people cling to their convictions far beyond limits of reason or comfort?

In the playwright's preface, Shanley contends that over the years, Americans have shifted into a "courtroom culture."

"It's evident in political talk shows, in entertainment coverage, in artistic criticism of every kind, in religious discussion," he writes. "Discussion has given way to debate. Communication has become a contest of wills."

His against hers.

Hers against theirs.

Theirs against ours.

The idea of a "courtroom culture" echoes the theory outlined in Deborah Tannen's best-seller "The Argument Culture: Stopping America's War of Words," in which she describes the same kind of tension that envelops "Doubt."

"When you're having an argument with someone, your goal is not to listen and understand," she writes. "Instead, you use every tactic you can think of — including distorting what your opponent just said — in order to win."

Like the playwright, Tannen noticed a change in society over the past few years. In fact, she writes, the argument culture "has become so exaggerated that it is getting in the way of solving our problems ... our spirits are corroded by living in an atmosphere of unrelenting contention."

Ironically, not everyone agrees.

Jean Goodwin, who teaches speech communications at Iowa State University and specializes in the theory of argument, hasn't noticed any recent changes in the way Americans interact, but she admits that Tannen's theory is widely accepted.

"It's very hard to say we're more argumentative than previously," Goodwin said, citing Congress' infamous history of fist fights, duels and name-calling in the 1800s. "Lincoln himself was extremely good at this."

Although people no longer trade insults in a courtly manner, she said, we still get angry (even in Iowa, she joked, where "teaching debate is like teaching a foreign language").

"We still argue," she said. "Maybe what we've lost is the ability to do it well."

Goodwin said her students have no trouble finding examples of unproductive — or even misleading — conflict in the mainstream media. In an effort to present balance, for example, journalists often boil down complex issues into simple point-and-counterpoint blurbs. And a quick flip through the TV channels showcases a whole chorus of hot-headed bluster, from "Nancy Grace" to "Survivor."

There are more intelligent shows, Goodwin said, but "no one watches them."

"They're boring. The people are pompous. It's more fun when the temperature rises."

That's why audiences have found "Doubt" so compelling. In the play, the nun and the priest grapple with an issue that strikes an emotional nerve deeper than anything a prime-time reality show can touch.

After donning Sister Aloysius' black habit more than 500 times, Jones said she occasionally has to remind herself the play is about more than a philosophical debate.

"For many people, it's a tragically real story — or the ghost of a tragically real story," Jones said.

Four years after the church's sex abuse scandal erupted in the Boston Archdiocese, the church continues to struggle with the consequences of past abuses and cover-ups.

Not quite two weeks ago, the Los Angeles Archdiocese announced a $60 million settlement that could be a precursor to the country's costliest abuse payout, with hundreds more cases in the pipeline.

In Iowa, the Davenport Diocese in October became the fourth in the nation to file for bankruptcy to protect its assets from lawsuits filed by people alleging clergy sex abuse. Just this week, the diocese announced it would sell its headquarters and the home of its new bishop to raise money to pay victims of sexual abuse.

With such a backdrop of events, "Doubt" has resonated with viewers, Jones said.

After one performance, "one young man came up and hugged my neck, and he had tears in his eyes. And he said, 'I wish I had you,'" Jones said. "People will say, 'Did you really not base this on so-and-so?' "

But she emphasized that the play is entirely fictional - and that it's about more than the queasy subject of sex abuse.

"Catholics love this play," she said. "I think a lot of Catholics think 'Oh, it's another pedophile play and it's going to denigrate the church.' And the thing is, it is such a beautiful, fair portrait of two people and of a period in time."

Jones said the script is as easy to keep fresh as anything she's performed. "The writing is so lean and crisp and smart. It gets me riled up every night."

And really, it's impossible to determine what actually happened in that priest's office. There's nothing solid to go on.

Except her word.

And his.

Which is what the playwright intended. As Jones tells it, Shanley sat down with the director and the actor playing the priest's role and decided - for their own sake - what really occurred. But they never told the rest of the cast.

"Doubt requires more courage than conviction does, and more energy," Shanley writes in the preface.

"We've got to learn to live with a full measure of uncertainty. There is no last word."

Reporter Michael Morain can be reached at (515) 286-2559 or mmorain@dmreg.com