Ex-Coach's Lawyers Say Publicity Taints Case
Attorneys for Daniel M. Shields Jr., a Former Teacher at Nativity Bvm High School Accused of Molestation and Videotaping Girls, Want a Trial outside Schuylkill County or a Jury Brought in

By Holly Herman
Reading Eagle [Pennsylvania]
December 13, 2006

http://www.readingeagle.com/re/news/1605457.asp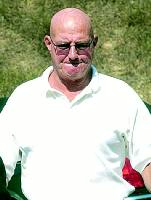 Daniel M. Shields Jr., a former teacher and coach, arrives Tuesday at the Schuylkill County Courthouse for a preliminary hearing on sex abuse and related charges.
Photo by The Reading Eagle: Tim Leedy


Pre-trial publicity would prevent a fair trial in Schuylkill County Court for a former Pottsville physical-education teacher and coach accused of molesting an athlete and videotaping others who were undressing, defense lawyers argued Wednesday.

Reading lawyers Emmanuel H. Dimitriou and Kurt B. Geishauser asked Schuylkill Judge John E. Domalakes to move the trial or have an out-of-county jury hear the case involving Daniel M. Shields Jr.

Shields, 62, a former Nativity BVM High School teacher and football and track coach, is accused of molesting a member of the girls track team, who graduated in 2005, several times during 2004 and 2005.

He also is accused of videotaping the girl and two other female athletes undressing in a school locker room from November 2004 to May 2005.

Shields is charged with aggravated indecent assault, sexual abuse of children and related offenses.

A hearing is scheduled later this week.

Officials from the Diocese of Allentown said Shields no longer is employed at the school.

Geishauser said Sheilds is a prominent figure in the Pottsville community.

"He was a gym teacher, a track coach and a football coach for many years," Geishauser said.

First Assistant District Attorney Karen Noon declined to comment on whether she opposes the request.

The defense attorneys also asked Domalakes to schedule separate trials in the videotaping and molestation cases.

Dimitriou said the cases are different and should not be tried together.

Domalakes previously ruled against a request from Shields' lawyers to prevent a jury from watching the videotapes.

The athlete, whose name is being withheld by the Reading Eagle, testified during a preliminary hearing in December 2005 that she feared she would be thrown off the track team if she told police she was molested by her coach.

According to court records:

Police seized videotapes at Shields' East Norwegian Township home on Aug. 16, 2005.

The tape showed two 17-year-olds and an 18-year-old changing into workout clothing.

Shields made the tapes by putting a camera on top of a locker and in a dryer.

Shields worked at the school for 34 years, coaching the high school football team for 27 years before retiring in 1998. He also was coach of the girls track team from 1994 until his arrest in 2005.

Shields is free on bail.

Contact reporter Holly Herman at 610-478-6291 or hherman@readingeagle.com.