Two Seek Extension of Statute of Limitations in Child Sex Abuse Cases

By Beth Miller
News Journal
December 15, 2006

http://www.delawareonline.com/apps/pbcs.dll/article?AID=/20061215/NEWS/61215018/-1/frontpage

Wilmington — Two men whose lawsuits against religious-order Catholic priests are pending in state and federal courts called for Delaware lawmakers to resume efforts to change the state's civil statute of limitations for child sexual abuse – and give those previously blocked by it their day in court.

Eric Eden, a former student at Salesianum School, and Navy Commander Kenneth Whitwell, who had attended Archmere Academy, who say they were abused by priests when they were students, called for the changes during a press conference at the office of their attorney, Thomas S. Neuberger.

Several lawmakers introduced a bill earlier this year to change the civil statute, which limits the amount of time a person can sue for damages. At present, Delaware law allows suits to be filed for two years after the injury.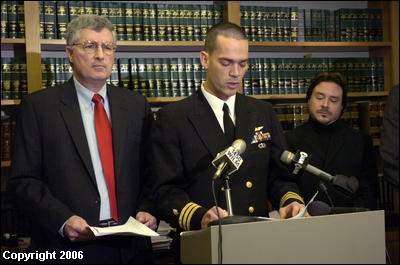 Attorney Thomas S. Neuberger, Naval Commander Kenneth Whitwell and Eric Kenneth speak at news conference today.
Photo by The News Journal / Carla Varisco



Several states have reviewed statutes of limitations since the problem of clergy sexual abuse emerged as a national scandal in 2002. People around the nation alleged they had been abused but silenced by confidentiality agreements and denied legal remedy by statutes of limitations.

California lawmakers provided a temporary window during which those whose suits were blocked could file them.

Delaware lawmakers tried to change the civil statute in the last legislative session, but disagreements arose and they ran out of time. In addition to extending the time for filing lawsuits, the original bill called for a two-year window in which those whose cases would have been blocked by the statute of limitations could file them.

Contact Beth Miller at 324-2784 or bmiller@delawareonline.com.