Papal Preacher Wants " Penitence Day" for Sex Abuse

By Philip Pullella
Reuters
December 15, 2006

http://today.reuters.com/news/articlenews.aspx?type=worldNews&storyID=2006-12-15T165035Z_01_
L15792352_RTRUKOC_0_US-POPE-PAEDOPHILIA.xml&WTmodLoc=IntNewsHome_C2_worldNews-4

Vatican City (Reuters) - The only man allowed to preach to Pope Benedict on Friday told the Pontiff he should call a worldwide day of fasting and penitence to ask forgiveness for the Roman Catholic Church's priestly sexual abuse scandals.

Father Raniero Cantalamessa, whose official title is "preacher of the papal household", made the suggestion during a pre-Christmas sermon to the Pope and Vatican officials.

Cantalamessa said the Church had "wept and sighed" recently over "abominations committed by her very ministers and pastors".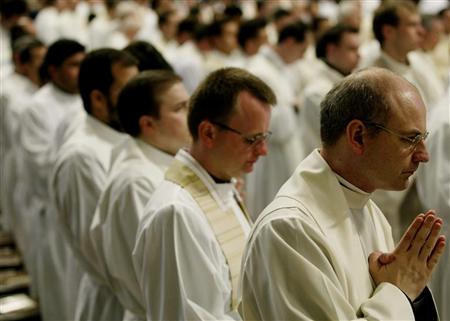 Priests pray in St. Peter's Basilica in a file photo. A Vatican preacher said on Friday in the presence of Pope Benedict that the Catholic Church should hold a worldwide day of fasting and penitence to ask forgiveness for its priestly sexual abuse scandals.
Photo by The Reuters / Paolo Cocco



A U.S. sexual abuse scandal which erupted in Boston in 2002 spread to almost every Catholic diocese in the country. Many priests were prosecuted and payments of millions of dollars were made to scores of victims.

U.S. church files have also revealed that some bishops repeatedly transferred priests accused of abusing minors to other parishes rather than reporting them to police.

Sexual abuse scandals have also hit Roman Catholic Churches in Ireland and other countries.

Cantalamessa said the time had come for the Church to "weep before God" over the scandal against "the smallest of its brothers".

He said the Church should call a "a day of fasting and penitence, at the local and national level, where the problem was worst, to publicly express sorrow before God and solidarity with the victims".

Such a day would, he said, help "reconciliation of souls" so the Church could get back on the path of doing its work "with a renewed heart".

VICTIMS DEMAND ACTION

At least one group of victims of priestly abuse said it was not enough.

"We would much rather that the Pope discipline complicit bishops," said Barbara Blaine, president of the U.S.-based Survivors Network of those Abused by Priests (SNAP).

"Hundreds of bishops have covered up thousands of sex crimes yet not one has a faced a single consequence for this horrific deceit and recklessness," she told Reuters.

"Until the Pope disciplines corrupt bishops, this devastating crisis will continue. We believe decisive action protects kids, not nice gestures," she said.

Last October, Benedict said the wounds from sexual abuse in the Church "run deep", and instructed bishops to do whatever necessary to prevent repeat offences and rebuild confidence.

Benedict has taken a much clearer line on sexual abuse than his predecessor John Paul. Last May, he disciplined the elderly Mexican founder of a Roman Catholic religious group who had been accused of sexual abuse, ordering him to retire to a life of "prayer and penitence".