Former Priest Pleads Not Guilty to Molesting Teen

CBS 4
December 16, 2006

http://cbs4denver.com/local/local_story_350154459.html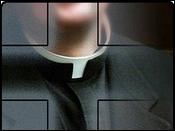 Photo by CBS


(AP) Fort Collins, Colo. A 43-year-old former Roman Catholic priest has pleaded not guilty to sexually molesting a Fort Collins teen.

Timothy Evans entered the plea in Larimer District Court Friday. He is accused of molesting the teen between 1998 and 1999 while he was assigned to Saint Elizabeth Seton Church.

He also is accused of providing the teen alcohol. His trial is set to begin March 19.

Evans also faces charges in Jefferson County of sexual assault on a child by a person in a position of trust, pattern abuse, from an incident alleged to have happened during his time at Spirit of Christ Parish in Arvada from May 1995 to May 1997.

Evans was removed from the church in 2002.