Priest Convicted in Nun's Murder Hospitalized

Associated Press, carried in Beacon Journal
December 18, 2006

http://www.ohio.com/mld/ohio/news/16270428.htm

Columbus, Ohio - A priest convicted of killing a nun was taken from prison to a hospital earlier this month for a problem related to his kidneys, but his condition is not life-threatening, a state prisons spokeswoman said.

The Rev. Gerald Robinson was taken to the Ohio State University Medical Center Dec. 7 from the Hocking Correctional Facility in Nelsonville. Andrea Dean, a spokeswoman for the Ohio Department of Rehabilitation and Correction, declined to elaborate further on why he was hospitalized.

Information about when he was expected to be discharged was also unavailable.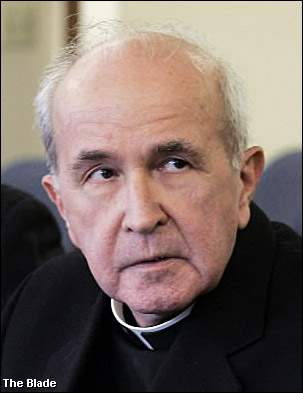 Robinson



In May, a Toledo jury found Robinson guilty of killing Sister Margaret Ann Pahl, who was choked and stabbed to death while she was preparing a hospital chapel for Easter weekend services in 1980. He was sentenced to a mandatory term of 15 years to life in prison.

Robinson, who had worked closely with Sister Pahl as the hospital chaplain and presided at her funeral Mass, emerged as a suspect when police found a sword-shaped letter opener in his desk drawer two weeks after the killing.

He was not charged for years because prosecutors said there was not enough evidence. Investigators reopened the case in late 2003 and he was charged in 2004.