Audit: Diocese in Compliance with Guidelines

By Ken Christian
WCSH [Maine]
December 19, 2006

http://www.wcsh6.com/news/article.aspx?storyid=47869

Maine's Roman Catholic diocese is in full compliance with church guidelines in conducting background checks on volunteers and employees and providing sexual abuse prevention training for minors in its care.

Bishop Richard Malone released the audit today.

Last year, the diocese was found to be falling short in complying with the Catholic Church's Charter for the Protection of Children and Young People, commonly known as the Dallas Charter. But this year, Malone said the diocese was compliant in all 13 areas that were audited.

According to the audit, which reviewed the period from mid-December 2005 to August 2006, all 4,926 clergy, employees and volunteers in the diocese have undergone background checks.

The audit also said that 79 percent of all children in Catholic schools and religious training programs have participated in sexual abuse prevention classes -- with the other 21 percent opting out off the classes.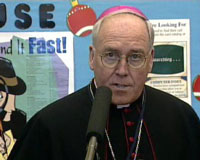 Richard Malone