Bernard: Few Knew of the Abuse
Natives to Finally Get Compensation for Treatment at Residential School

By Bill Power
Chronicle Herald [Canada]
December 19, 2006

http://thechronicleherald.ca/NovaScotia/548192.html

Sunday mass at the Shubenacadie Indian residential school in the 1940s and '50s was something of a treat for some English-speaking Catholic residents of neighbouring rural communities.

"The non-natives would come up Sunday mornings from the village to attend mass . . . to see the children singing their hearts out in the choir," former school resident Nora Bernard of the Millbrook First Nation said Monday.

"A non-native not familiar with the structure and the abuse would think everything was on the up and up," Ms. Bernard recalled in an interview.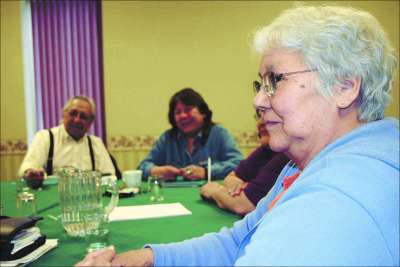 Nora Bernard says her five years at the Shubenacadie Indian residential school were not the best part of her years as a child.



Few local people knew that the children were regularly denied food and clothing and a proper education as well as acceptable health care, not to mention documented cases of sexual abuse, she said.

"The abuse was horrible," said Ms. Bernard, whose Shubenacadie Indian Residential School Association fought for compensation in this province.

A decision by judges in several provinces last Friday approves financial compensation for thousands of former aboriginal residential school students across Canada. An estimated 80,000 people are entitled to benefits.

"It's been an 11-year fight and it is a relief it is over. Justice has been done and now these people can try to get on with their lives," said Ms. Bernard, director of the association.

She said formal approval of the cash settlement will help many former residents continue their "journeys of healing" but that true "closure" will come only after formal apologies from Prime Minister Stephen Harper and Pope Benedict.

Ms. Bernard, who spent five years at the Shubenacadie school as a child, said the original 1996 class action against the federal government and the Roman Catholic Archdiocese of Halifax seeks "an apology and compensation" for the physical, sexual and emotional abuse Mi'kmaq and Maliseet children suffered at the facility.

"There has never been an apology from the Catholic church and we also deserve a proper apology from the prime minister as well."

Ms. Bernard said she has not formally discussed the apology issue with the Halifax archdiocese since the matter went before the courts.

Ottawa offered a statement of reconciliation in 1998 but most survivors rejected it.

Thousands of natives across the country said they were taken from their families and placed in residential schools, where some were physically, emotionally and sexually abused and all were forced to abandon their language and culture.

"These were certainly not the best part of my years as a child," said Ms. Bernard.

She said she remembers being whacked brutally in the mouth for speaking Mi'kmaq at the school she was in.

She said her mother continued to speak Mi'kmaq when school officials were not around and always promoted pride in their shared cultural heritage.

More than 900 Mi'kmaq and Maliseet were part of the original court action. However, fewer than 600 people with a common link to the Shubenacadie residential school will receive a settlement cheque from Ottawa.

Surviving former residents of the school will receive $10,000 for their first year and $3,000 for each additional year of residence. Some former residents have already received early payouts of $8,000, to be deducted from their total compensation.

Ms. Bernard said she expects cheques to be mailed before spring.

More than 2,000 Mi'kmaq and Maliseet children attended the Shubenacadie residential school from 1930 until it closed in 1967. Many left the area permanently afterward.

"Some live on the street in places like Toronto and Boston," said Ms. Bernard.

She said it will be virtually impossible to notify all former residents a settlement is available.

(bpower@herald.ca)