Maine Diocese in Compliance with Rules Preventing Sex Abuse

By Judy Harrison
Bangor Daily News [Maine]
December 20, 2006

http://bangordailynews.com/news/t/news.aspx?articleid=144363&zoneid=500

Bangor - An annual audit shows that Maine's Roman Catholic diocese is in full compliance with national requirements designed to prevent the sexual abuse of children, Bishop Richard J. Malone announced Tuesday.

The same audit last year found that the diocese had completed background checks of 87 percent of the 4,500 volunteers and employees in its database.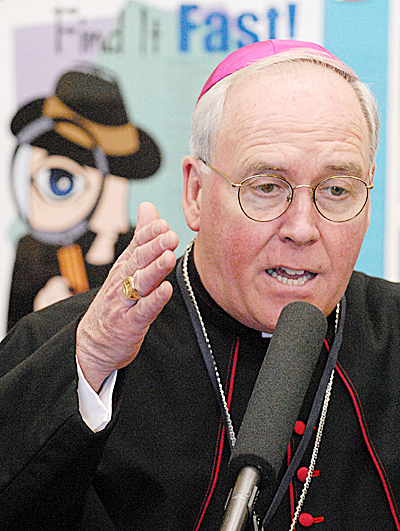 Roman Catholic Bishop Richard Malone addresses a press conference at the All Saint's School in Bangor.
Photo by The Bangor Daily News/Joshua Bright


It also found that 33 percent of the children at its schools or in its religious programs had undergone sexual abuse prevention training.

"This year, we are 100 percent compliant in all 13 areas of the audit, which was a three-day, very thorough review by independent auditors," Malone said Tuesday during a news conference at the St. John's campus of All Saints Catholic School.

The diocese comprises all 16 Maine counties.

The Catholic church's Charter for the Protection of the Children and Young People, commonly known as the Dallas Charter, required that the diocese be in full compliance in 2005.

The U.S. Conference of Catholic Bishops adopted the Dallas Charter in 2002 in the wake of the priest sexual abuse scandal that rocked the church. The charter contains 17 articles, 13 of which apply to individual dioceses and are subject to annual audit.

The document was designed to outline how the church should work with victims of sexual abuse, respond to allegations of abuse and protect children.

"Our stepped-up efforts to complete the background checks and training will undoubtedly ensure a safer environment for our children," Malone said. "And I pledge we will continue to work diligently to make sure safeguards are in place to prevent future abuse."

The most recent audit, conducted in every diocese in the nation, reviewed the period between mid-December 2005 and August 2006. The results showed that all of the 4,926 active clergy, employees, educators and volunteers of the Maine diocese have had background checks, Malone said.

Of the 7,318 individuals checked since 2003, 14 have been dismissed because they were found to have criminal backgrounds, including one for a conviction of sexual abuse of a minor, said Deacon Tom Deignan, who is in charge of implementing the sex abuse prevention program.

Two others were let go because of sexual assault cases, and 11 were found to have committed other offenses. The net result was 2.7 "positive hits per 100 checks," he said.

Deignan said each background check costs $37 and includes checks for an individual's criminal history, driving record and involvement with state Department of Health and Human Services as well as a check of the National Sex Offender Registry,

A total of 11,071 Maine children had been trained in the Child Lures Prevention Program as of June 30, Malone said. "That's 79 percent of all children in Catholic schools and faith formation. The other 21 percent opted out of the program."

Parents, according to Deignan, decided their children should not participate for three main reasons:


They felt parents rather than the diocese should discuss sexual abuse with children.
Scheduling conflicts with other activities occurred when the program was being offered.
Parents felt the program was a form of sex education.
Parents felt the program was a form of sex education.

Sue Bernard, spokeswoman for the diocese, said at Tuesday's news conference that since staff and employees completed the Protecting God's Children Program and learned how to recognize the signs of abuse, at least two children have been removed from an abusive situation.

Marcia Diamond, principal of All Saints Catholic School, said after the news conference that the programs had raised awareness of staff and children about the issues of abuse and the techniques abusers might use to lure children into potentially unsafe situations.

"Everybody's on alert to make sure we're following the guidelines," she said, "The children are more aware of what a safe environment means."