Porn Case against Priest Adjourned

Leamington Spa Today [United Kingdom]
December 20, 2006

http://www.leamingtonspatoday.co.uk/ViewArticle2.aspx?SectionID=691&ArticleID=1937859

The case of a former Leamington priest accused of downloading child pornography has again had to be adjourned - because experts' reports will not be ready until the New Year.

Father Anthony Jones appeared at Warwick Crown Court on Monday after his case had been adjourned last month when the judge was told the defence was 'in the process of commissioning our own expert's report.'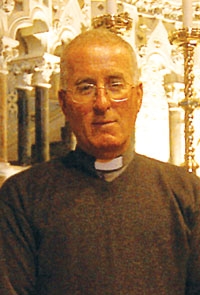 Fr Tony Jones.


Fr Tony, 56, who was a parish priest at St Peter's Catholic church in Leamington until a police investigation was launched earlier this year, was due to enter pleas to 17 charges of making indecent images of children.

He is alleged to have downloaded the images, which include one each of the most serious categories as defined by the Court of Appeal, on dates between January 2000 and October last year while he was based in Caversham, Berks, and then Leamington.

But Graeme Simpson, defending, asked for the case against the priest to be adjourned again. He explained: "Two experts have been instructed by the defence, a paediatrician and a computer expert. Their reports should be ready in two weeks, and there will then need to be a conference with the defendant."

A report by a prosecution computer expert was served on Fr Jones's defence team on the morning of the last hearing, prompting the decision to instruct their own expert. The paediatrician has been asked to prepare a report on the likely ages of those depicted in the images said to have been found on Fr Jones's computer.

And Tom Schofield, prosecuting, said a paediatric report has also now been requested by the prosecution – and that will not be ready until the end of January.

So Judge Richard Cole adjourned the plea and case management hearing until early February.

Fr Jones, who is now living at St Mary's Abbey in Little Hayward, Stafford, was granted bail with conditions of residence at that address and that he does not have contact with any child under the age of 18.

During the previous hearing his barrister on that occasion, Darren Whitehead, said: "This is going to be a case fought or lost on expert evidence."