Headmaster Guilty of Child Porn

By Paul Melia
Irish Independent [Ireland]
December 20, 2006

http://www.unison.ie/irish_independent/stories.php3?ca=9&si=1744046&issue_id=15024

A former primary school principal found in possession of 10,000 images of children as young as six having sex, has received a two-and-a-half year suspended jail sentence.

Former principal of Arklow Boys School, Padraig Branigan, was also found with 200 short films and 100 stories where children were portrayed in a series of sickening and horrific poses.

A former Christian Brother with an address at The Rise, Mountain Bay, Arklow, the 41-year old pleaded guilty at Wicklow Circuit Court yesterday to one charge of possession of child pornography.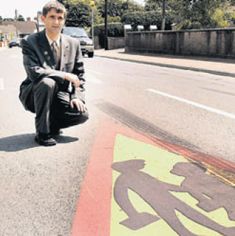 Padraig Branigan pictured outside Arklow Boys' National School in 2003. Yesterday he received a suspended jail sentence for possessing 10,000 child porn images



He viewed the images for an hour every morning, and for up to three hours per day at weekends.

They were downloaded from the internet over a three-month period in early 2004. But when gardai called to his home in October 2004, he immediately showed them a laptop computer on which the images were stored, and a sports bag which contained DVDs and videos.

The computer and bag contained images of naked Thai boys aged between 6 and 16 years in a series of sexually-explicit poses, having sex with each other and with adults.

"I don't have a solicitor, but I want to put my hands up," Mr Branigan told gardai. The accused, wearing a green suit, blue shirt and gold patterned tie, said nothing during yesterday's hearing.

"All of the images show the victimisation of vulnerable children," Detective Sargeant James Madden told the court, adding there was 'no evidence whatsoever' local children were abused.

Mr Branigan was described as being "very popular" outside his home, but once inside his door he drank heavily and one third of his bedside locker was full of empty painkiller packets.

A psychotherapist working with him, Bridget Hussey, told Judge Michael O'Shea that her client was one of nine children from a staunchly Catholic background. He had been abused by a priest when he was aged 10, and for most of his childhood had lived a 'lonely and isolated' life. He was emotionally and sexually immature, and was not as developed as his peers.

"I think at 17 he realised he was a gay person but his family background and thinking of the church, which said it was evil, meant he never owned up to the fact he was a gay man," she said.

Summing up, Judge O'Shea said that while the images were "horrific", he would take into account the early guilty plea and the fact that the accused had made attempts to sort out his life.

"His fall from grace must have been humiliating. He is in disgrace and will be for the rest of his life. He was a chronic drinker at the time, a loner and unable to face up to his sexuality. He retired to his room, probably badly influenced by his sexual orientation, and does that put him in the category of a cold-blooded paedophile? I don't think so."

He sentenced him to two-and-a-half years imprisonment, suspended for three years, on condition he continue receiving treatment and attending Alcoholics Anonymous. He must also sign the sex offenders register.