With Court Battles Over, McNeese Renews Ministry
New Program Will Assist Those Falsely Accused of Child Abuse

By Amy Ritchart
Leaf Chronicle [Clarksville TN]
December 21, 2006

http://www.theleafchronicle.com/apps/pbcs.dll/article?AID=/20061221/NEWS01/612210315

A clergyman who spent years defending himself against allegations of child abuse has formally reopened — and retooled — his ministry in Clarksville.

The Rev. La Monte McNeese has established a community service center, L. McNeese Ministries, on Dean Drive, which will be home to his Pentecostal Apostolic church and a variety of human services programs.

The ministries include those that remained operational during McNeese's court battles — and one new offering.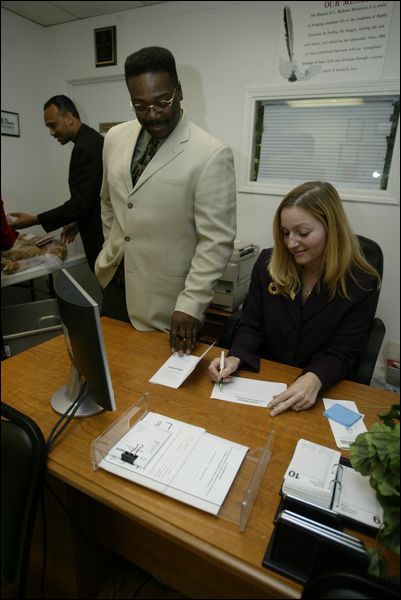 The Rev. La Monte McNeese looks over paperwork at the desk of Simone Cuarino, executive secretary for L. McNeese Ministries. Back, Mark Liverman, chief financial officer for the ministries.
Photo by Alicia Archuleta/The Leaf-Chronicle


The FAITH Agency, a program launched to educate people who have been falsely accused of child abuse, has become a lead program for the church.

FAITH Agency was created as a direct result of McNeese being investigated by the Department of Children's Services and charged with statutory rape, sexual battery and rape of a child in Stewart and Montgomery counties.

Facing accusations

McNeese was found not guilty in one case in a 2004 trial in Stewart County.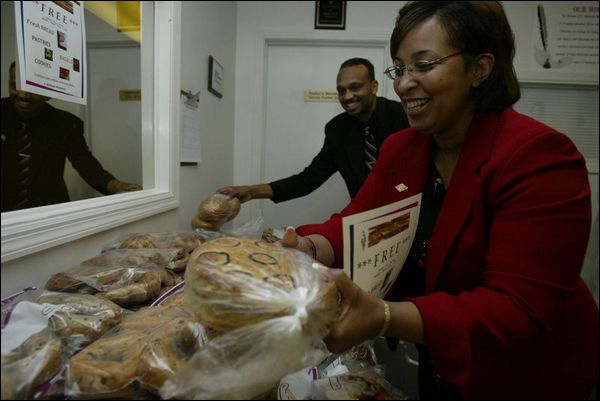 Front, Tonya White, executive administrator for L. McNeese Ministries and Mark Liverman prepare food at the organization.
Photo by Alicia Archuleta/The Leaf-Chronicle


All other charges were either dismissed or retired, including two charges of rape and one of statutory rape retired in March 2005 in Montgomery County. In that case, the prosecutor said the alleged victim — who was also the alleged victim in the Stewart County trial — was too emotionally scarred to participate.

"The first thing I want people to know about is the FAITH Agency. The FAITH Agency — False Accusation, Information, Training and Help — that's the main thing. That's what's changed," said Tonya White, executive administrator for L. McNeese Ministries. "I'm now an advocate of people who are victims of those who abuse laws.

"I was astounded to find out the number of people whose rights have been trampled over — in some cases by one allegation. I want people to know that being falsely accused is devastating — but you're not alone."

In addition to the FAITH Agency, McNeese Ministries' Dean Drive location is home base for the group's One Way Apostolic Assembly church services, Your Daily Bread, Apologetics Bible College, One Way Christian Academy, Senior Help of Middle Tennessee and the In the Name of Jesus Publishing Consultants.

McNeese said disbanding the ministries was never an option — and now they've found a home in the new location until they can construct a building of their own.

"We've been working since we closed. After all of the legal battle was finished, we made a sketch of the items needed to come back into the public service. We started planning," McNeese said. "There has never been the thought or idea of quitting. If you have a conviction, ...I don't know how you stop. What do you do if your life's calling is to do a thing and you retire? You can't quit."

Dedicated faith

Simone Cuarino, executive secretary for the ministries and director of Senior Help of Middle Tennessee, said though her perspective is a little changed, her dedication to the ministry remains steadfast.

"This experience has taught me even though you're trying to do good, everyone is not genuine," she said. "I do believe this is the ministry that God wanted me to do."

And McNeese, along with the other ministry leaders, said moving their work to another location was also never an option.

"I have a 30-year mortgage here. It's my home — I like Clarksville," McNeese said. "(When you are accused of child abuse) you have all sorts of thoughts. One of those thoughts is, 'Why don't I leave this dumb town?'

"There's no use running."

Mark Liverman, L. McNeese Ministries chief financial officer, said continuing the mission here was also a service to people who stayed with the church during the transition.

"We found that staying here and reopening ... was strength for them," he said. "People have told us, 'We thought you left.' To quit or not open would be to quit life."

White said continuing the ministry is also one way to reassert McNeese's innocence.

"We didn't do something wrong. We are God-inspired," she said. "This is where I want to raise my children."

The mission

McNeese said the purpose of the programs is to provide faith-based assistance to Middle Tennessee residents in need.

"I'm a pastor, but I help people — it's community service," McNeese said.


Your Daily Bread is a food bank that provides staples and occasionally basic items such as coats, clothing, detergent, household goods and toys at no charge to indigent people.


One Way Apostolic Assembly is a small Pentecostal church with about 25 members. "One Way has a powerful pulpit, making it a place where those who have been disillusioned by life and religion can come and receive a second chance to live an abundant Christian life through a clear and thorough understanding of God's word," according to the church's mission statement. "We believe that God has ordained One Way to be a meta church operating in harmony with mainstream Christian thought and leading people to a saving knowledge of Jesus Christ without compromising our Apostolic Pentecostal values."


Apologetics Bible College provides free marriage counseling and relationship enrichment seminars. "I provide those four hours (which allow couples to receive a discount from the county on their marriage license fee) for free. I'm not recruiting in the process — it's really about more than just saving money. People really need some help," McNeese said. The bible college also provides seminars geared toward other clergy — with a mission to "expose harmful religious doctrine, educate and deprogram proponents of unhealthy sects, defend scholarship against false notions and assert faith in the eternal union of knowledge and holiness," according to the college mission statement. "My mission is biblical clarity," McNeese said. "I hate to say it, but the religious world is turning into a circus. I teach that there is no snake-handling in the Bible. We help them become more mainstream in their doctrine." The group also provides small-church assistance covering, interdenominational ministerial support and fellowship for ministers and pastors of congregations averaging attendance of two to 150 people.


FAITH Agency was created to protect people who have been falsely accused of child abuse. McNeese said he understands people's hesitation to support someone who is accused of that crime: "What do you expect when you say child abuse? Before it happened to me, I was probably like the people who were like that to me. "The first thing you need to be is innocent. Child abuse is a terrible crime — to be falsely accused is the next terrible thing."

* Senior Help of Middle Tennessee is a program established to help seniors live independently and with dignity. Cuarino said the group is currently collecting items such as lap blankets, pajamas, unscented lotions, sweat suits, hats and scarves to give to seniors for Christmas. "It's a different kind of program," Cuarino said. "There's just very little support (for the elderly)."


In The Name Of Jesus Publishing Consultants publishes religious books and offers ghost writing. McNeese is the author of three books: "A Response to Christmas Critics," "The Top Ten Dumbest Christian Beliefs," and "How to be Strong When Falsely Accused."

Amy Ritchart can be reached by telephone at 245-0200 or at amyritchart@theleafchronicle.com.