Fresno Priest Issues Letter of Thanks to Congregation

ABC 30 [Fresno CA]
December 24, 2006

http://abclocal.go.com/kfsn/story?section=local&id=4878027

A Fresno priest plans to return to his church next month after a mistrial in the civil case accusing him of molesting a parishioner.

Father Eric Swearingen issued a letter to the people of Holy Spirit Church in Northeast Fresno. He thanks them for their prayers and says he'll be back to work on January 8.

Juan Rocha sued Father Swearingen and the Catholic Diocese, claiming the priest molested him nearly 20 years ago.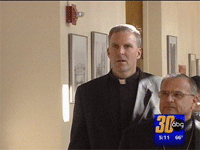 Fresno Priest



A majority of jurors believed the abuse happened, but they were not convinced the church knew about it.

Bishop John Steinbock also issued a letter to the people of Holy Spirit, saying he believes Father Swearingen is innocent.

Father Swearingen will go on trial again in April and Bishop Steinbock says there is more evidence proving the priest is innocent.