Pope Benedict Has Placed Children at the Centre of His
Christmas Message

EuroNews [Vatican City]
December 25, 2006

http://euronews.net/create_html.php?page=detail_info&article=397806&lng=1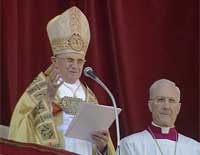 Pope Benedict



In the "Urbi et Orbi" blessing to crowds in St. Peter's Square he spoke out against consumerism. At midnight mass, he said the image of the baby Jesus in a manger should remind everyone of abused and neglected children everywhere.

His Christmas day appeal addressed peace and justice in the Middle East, an end to the violence in Iraq and a solution to the conflicts in Darfur. From the central balcony of Christendom's largest church he stressed the importance of love over material necessities.

He asked: "Does a 'Saviour' still have any value and meaning for the men and women of the third millennium?"

Marking the second Christmas of his pontificate, the Pope said that 21st century man appeared to be a master of his own destiny but perhaps needed a saviour all the more because much of humanity still suffered.