Pope Benedict XVI Prays for Children at Midnight Mass

Pravda [Vatican City]
December 25, 2006

http://english.pravda.ru/news/world/25-12-2006/86102-benedict_pope-0

Pope Benedict XVI celebrated Christmas Midnight Mass in the splendor of St. Peter's Basilica early Monday with an appeal to help children who suffer and are abused, including those forced to beg or serve as soldiers and those deprived of food and love.

"The child of Bethlehem directs our gaze toward all children who suffer and are abused in the world, the born and the unborn," Benedict said in his homily, in a reference to the Vatican's staunch opposition to abortion.

He did not indicate if his mention of abuse also referred to many Catholics who have claimed that when they were youngsters they were victims of sexual abuse by clergy in lawsuits and other complaints in the United States and elsewhere.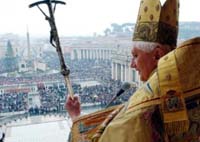 Pope Benedict XVI prays for children at Midnight Mass



Benedict also said that in celebrating Jesus' birth, the gaze of people must turn toward children forced to serve "as soldiers in a violent world, toward children who have to beg, toward children who suffer deprivation and hunger, toward children who are unloved," Benedict said.

"Let us pray this night that the brightness of God's love may enfold all these children. Let us ask God to help us do our part so that the dignity of children may be respected," the pontiff said.

He began the Mass with a wish for peace in Latin: "Pax vobis" ("Peace be with you). The faithful responded: "Et cum spiritu tuo." ("And also with you.")

To symbolize the worldwide reach of the Roman Catholic Church, children in native costumes from Asia, Europe, Africa, Latin America and the far reaches of the Pacific -- Korean, Polish and Guatemalan youngsters as well as a pair each from Papua New Guinea and Burkina Faso among them -- brought flowers to a figure of Baby Jesus near the altar.

Benedict told faithful to "not forget the true gift: to give each other something of ourselves, to give each other something of our time, to open our time to God."

Christmas gift-giving, Benedict said, also means giving to those who cannot give anything back. "This is what God has done," the pontiff said.

The solemn ceremony began exactly 12 hours before the 79-year-old Benedict was scheduled to deliver the traditional "Urbi et Orbi" speech -- Latin for "to the city and to the world" to a crowd expected to number in the tens of thousands in St. Peter's Square to hear the Christmas Day message. Under his predecessor, Pope John Paul II, the Christmas Day message became an occasion to review progress and setbacks for humanity, reports AP.

Wearing gold-colored vestments, smiling at the faithful and raising a hand in blessing as a chorus sang, Benedict strode up the main aisle to take his place on the central altar, which was decorated with red poinsettia flowers. He walked around the altar, sprinkling incense.

The Vatican said that the Mass was to be broadcast to some 44 nations.