Decision on Sex Offender Treatment Delayed

By Danielle Williamson
Milford Daily News [Worcester MA]
December 27, 2006

http://www.milforddailynews.com/homepage/8999325940592934911

An ailing, retired Bellingham priest convicted last year of sexual abuse remains in Canada while awaiting a court date to see if he can skip sex offender treatment.

The Rev. Paul Desilets, 82, formerly of Our Lady of the Assumption Parish, was scheduled to appear in front of a judge last Friday in Worcester Superior Court. His defense team, however, moved to postpone the hearing and a new date has not been set, one of Desilets' lawyers said yesterday.

A judge was expected last week to decide on Desilets' lawyers motion to spend the rest of his life at a retirement home in Quebec.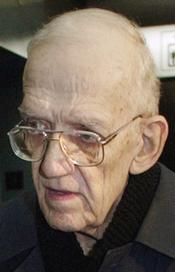 The Rev. Paul Desilets
Photo by AP


"He's almost an invalid," Desilets' Boston lawyer, Dennis Kelly, said in October. "Going through a sex offender rehabilitation program makes no sense to him. He's thousands of miles away and won't be leaving the infirmary."

Acceptance of Kelly's motion will allow Desilets who spent 1<+>1<+>/<->2<-> years in state prison after pleading guilty last May to six charges of assault and battery and 26 counts of indecent assault and battery to avoid mandated sex offender treatment.

During sentencing last year, Judge Timothy Hillman ordered Desilets to serve 10 years probation after his release from prison. As part of his probation, Desilets was to have no contact with his victims, no unsupervised contact with children under 18, and undergo sex offender treatment.

Desilets' lawyers have argued for the sex offender treatment to be dropped because their client is too old and physically ill. Completing the treatment, Kelly said, would be unnecessary and a waste of resources.

"Going through a sex offender rehabilitation program makes no sense for him," Kelly said. "He has no assets he took a vow of poverty when he was 16. He'd be a significant drain on the state of Massachusetts by either being a street person or on welfare."

In previous interviews, Desilets' victims have expressed outrage that their abuser may not fulfill his original probation requirements.

One victim, a former altar boy, said in October he did not care how old or sick Desilets was.

"You have to pay for the crime you committed, I don't care if you're 17 or 90," said Joseph Fleuette, 42, of Bellingham.

Since his October release, a judge has let Desilets remain under the supervision of a Canadian cleric at a retirement home in Quebec, a spokesman with Worcester County District Attorney John Conte's office has said.

Desilets signed an extradition waiver and was told in October to return to Worcester Superior Court in December for a final decision on the sex offender treatment request.

"There's been no change in the conditions of his release," said Paul Mastrocola, another one of Desilets' lawyers. "Father Desilets remains at the location he was ordered to go to."

Desilets moved to Les Clercs de St. Viteaur in Quebec where he is currently housed in 1984, and was arrested there in October 2002 after police investigated abuse allegations.

Desilets fought extradition for three years before returning to the United States in April 2005 to face charges he abused 18 altar boys at the now-closed Bellingham parish between 1978 and 1984.

He pleaded guilty to the charges within 20 days of his first court appearance.

Danielle Williamson can be reached at 508-634-7552 or dwilliam@cnc.com