Scandals and Celebrations
From Sex-Abuse Cases to Intrafaith Discord to Watching the Resolve of a 102-Year-Old As He Took the Pulpit, '06 Was Eventful for Religion

By Jim Jones
Fort Worth Star-Telegram [Texas]
December 30, 2006

http://www.dfw.com/mld/dfw/living/religion/16343817.htm

Writing about religion can take you down the street or to the uttermost parts of the Earth. During 2006, I covered stories in New Orleans, Williamsburg, Va.; College Station; and Amman, Jordan.

I wrote about the holy sites of Jordan in a previous column. We visited a huge mosque in Amman, which was next door to a towering Coptic Christian church. We were told Muslims and Christians can co-exist. I hope so.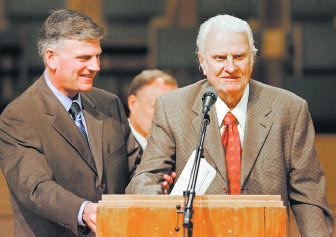 In March, evangelist Billy Graham, helped by his son Franklin Graham, gave a message of hope in New Orleans, which was still recovering from the devastation of Hurricane Katrina.
Photo by The Associated Press / Bill Haber


One of the highlights of the year was hearing Billy Graham give a message of hope to people in hurricane- and flood-ravaged New Orleans. He spoke in March along with his son, Franklin Graham, in an arena next to the then-dark Louisiana Superdome. I took a drive through the devastated Ninth Ward, a sad journey.

In April, I was in College Station to see Billy Graham honored by one of his old friends, President George H.W. Bush. The most famous evangelist of his time had the Aggies cheering for him as he accepted the Bush Award for Excellence in public service.

Another memorable experience was receiving Communion last June at a Williamsburg, Va., Episcopal church where George Washington, Thomas Jefferson, Patrick Henry and other founders of the nation once worshipped.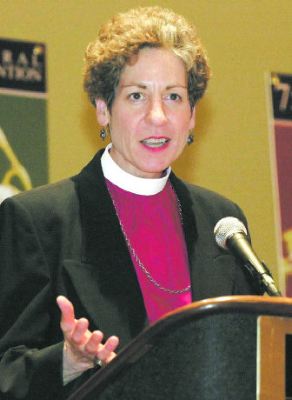 Katharine Jefferts Schori is the first female presiding bishop of the U.S. Episcopal Church.
Photo by The Associated Press / Jay Laprete


The good, the bad and the awful showed up in religion news in 2006. Here is my countdown of the top local stories of our fast-fading year:

Catholic sex scandal: Fort Worth Catholic Bishop Kevin Vann said he was "embarrassed, disheartened, appalled and angered" at behaviors revealed in the court documents released in November after legal action taken by the Star-Telegram, The Dallas Morning News and several accusers. The 700 pages of information detailed allegations against six priests, three of them deceased, who were accused of sexually abusing minors.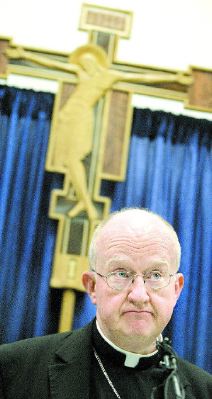 Fort Worth Bishop Kevin Vann said he was "appalled and angered" by priests' actions.
Photo by The Star-Telegram / Ron T. Ennis


Protestant sex scandal: The Rev. Terry Hornbuckle, the founder of the Agape Christian Fellowship Church in Arlington, was found guilty of raping three women, including two of his church members. In August, he was sentenced to 15 years in prison. In a separate matter in March, the Rev. Larry Nuell Neathery, former pastor of the Westside Victory Baptist Church in Fort Worth, was sentenced to life in prison. He was convicted of 25 felony charges involving sexual assault or molestation of five boys.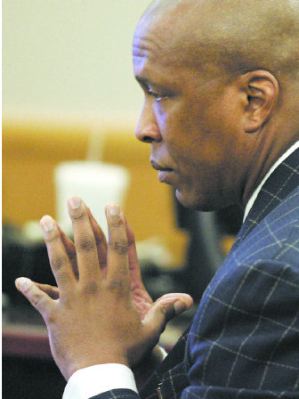 The Rev. Terry Hornbuckle was convicted of rape and sentenced to prison in August.
Photo by The Star-Telegram / Jill Johnson


Episcopal Church discord: The Episcopal Diocese of Fort Worth, led by Fort Worth Bishop Jack Iker and his diocese's standing committee, became the first in the nation to ask for "alternative primatial oversight" from someone other than Bishop Katharine Jefferts Schori. Their actions came last June immediately after Schori was elected the first female presiding bishop of the U.S. Episcopal Church. Six other dioceses followed suit.

Fund misuse: The Rev. Charles Wade, former pastor of the First Baptist Church of Arlington and now executive director of the Dallas-based Baptist General Convention of Texas, decided in November to turn over to federal authorities information about alleged misuse of $1.3 million in church-starting funds allocated for the Rio Grande Valley. The state convention is seeking restitution of the money.

Dark-horse winner: On a trip to Greensboro, N.C., in June, I witnessed the surprise election of the Rev. Frank Page of Taylors, S.C., as president of the Southern Baptist Convention over more prominent candidates. The victory had some local connections. The Rev. Benjamin Cole, pastor of the Parkview Baptist Church in Arlington, was a leader of Baptist pastors and frequent bloggers who supported Page, saying it was time for a change. Page said his strong support of the Cooperative Program, the denomination's unified plan of giving, was the major reason for his election.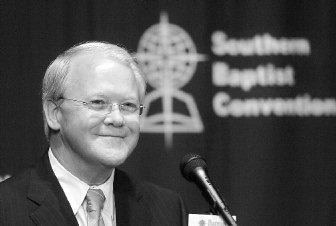 In a surprise, the Rev. Frank Page was elected president of the Southern Baptist Convention in June.
Photo by The Associated Press / Jay Laprete


Praying it my way: The Rev. Dwight McKissic, pastor of Cornerstone Baptist Church in Arlington, stirred controversy when he spoke at a chapel service Aug. 29 at Southwestern Baptist Theological Seminary. McKissic, a recently appointed seminary trustee, told students he had first prayed in tongues while a student at the seminary. He questioned the Baptist International Mission Board's policy of banning missionary candidates who prayed in tongues, saying it limits freedom of worship.

Seminary President Paige Patterson, while expressing his love for McKissic, ordered that McKissic's speech not be put on the seminary's Web site, as is the usual practice. In October, seminary trustees approved a resolution -- with McKissic's lone dissenting vote -- saying the seminary would not commend charismatic practices, including use of a private prayer language.

McKissic is not giving up. He and about 100 pastors met Dec. 5 at his church and voted to ask the Southern Baptist Convention to change its strict policies on private prayer language. The matter may come up at the Baptist national convention June 12-13 in San Antonio.

Religion news isn't all conflict.

I will long remember watching the Rev. Eugene Florence, a 102-year-old Fort Worth minister, speak at Southwestern Baptist Theological Seminary. I first met Florence when he was 100 years old, shortly before he was awarded a master of divinity degree from the seminary. It was a bit late. He completed credits for it more than 50 years ago. Back then, though, blacks weren't allowed to receive graduate degrees.

During Florence's address in February, he wowed his audience. He smiled and lectured students about faith and God's love. Florence, like Father Time, keeps marching on.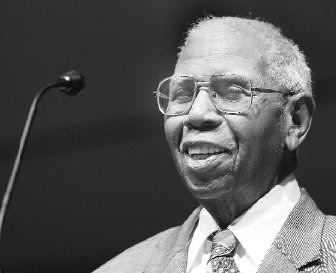 Eugene Florence, 102, preached at Southwestern Baptist Theological Seminary in February.
Photo by The Associated Press / Bill Haber


"Every day I say, 'Thank you, Lord, for being around,'" Florence told me this month. "I'm getting close to 103." He celebrates his next birthday at the end of February.

And to all of you, one and all, happy New Year.

Jim Jones can be reached at jjones.12@charter.net