Diocese Theft Called Largest in Years
$600,000 Missing from 2 Catholic Parishes in Louisa Shocks Diocese's Attorney

By Calvin R. Trice
Richmond Times-Dispatch
January 12, 2007

http://www.timesdispatch.com/servlet/Satellite?pagename=RTD%2FMGArticle%2FRTD_Basic
Article&c=MGArticle&cid=1149192615258&path=!news&s=1045855934842

Louisa -- An embezzlement case in which a priest is accused of stealing more than $600,000 from two parishes has no comparison in recent memory, a lawyer for the Catholic Diocese of Richmond said.

"We've had people take a few hundred bucks out of the plate, but nothing of this magnitude," attorney William Etherington said yesterday.

The Rev. Rodney L. Rodis, 50, who until May was pastor at St. Jude Catholic Church in Mineral and Immaculate Conception Catholic Church in nearby Bumpass, was indicted on a charge of felony embezzlement Monday.

Rodis appeared in Louisa General District Court yesterday morning where he agreed to surrender his passport as part of an agreement in which his bond was reduced from $100,000 to $10,000.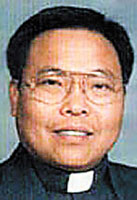 Rev. Rodney L. Rodis



Rodis, a Philippine citizen who lives in Fredericksburg, appeared at the brief hearing wearing a black-and-white-striped Central Virginia Regional Jail jumpsuit. He listened calmly and attentively throughout the proceedings.

He is charged with embezzling donations intended for St. Jude and Immaculate Conception, both part of the Richmond Diocese. Together, the churches have about 500 parishioners.

The Most Rev. Francis X. DiLorenzo, bishop of the Richmond Diocese, said in a statement yesterday: "When I became aware of discrepancies in the parish financial records, the state police were notified. They conducted a thorough investigation and found evidence which they have acted upon."

He said the diocese has cooperated with authorities in their investigation. "We intend to pursue the recovery of the funds and ask the courts that restitution be made to the two parishes."

DiLorenzo has suspended Rodis' faculties, which means the priest is not allowed to represent the diocese or perform priestly duties, such as celebrating Mass.

Louisa Commonwealth's Attorney R. Don Short yesterday asked General District Judge Edward Carpenter to reduce Rodis' bond with conditions.

One was that Rodis give up his passport. Rodis is living in the United States on documents set to expire in 2015, court records show.

Carpenter also ordered Rodis to remain in the state and continue residing in Fredericksburg.

"We were just mainly concerned that he stay here," Short said after the hearing. "He said he would certainly stay."

Short told Carpenter that Rodis has health problems that require treatment and led him to retire as pastor of the Louisa parishes in May. The Catholic Virginian reported in June that Rodis had suffered a stroke in October 2005.

Rodis has been in the U.S. since 1991 and a priest with the Louisa parishes since 1993.

The investigation began in November when church officials found that a donation to the parishes wasn't acknowledged, and they could find no record of it.

Rodis had apparently set up a third bank account in the church's name that only he controlled and had deposited some donations into it, Etherington said.

The indictment accuses Rodis of stealing money between September 2001 and October 2006. The investigation is ongoing, Short said.

Because donations aren't regular income, it's difficult to estimate the damage to church finances, Etherington said.

"You don't know how much was coming in, so you really can't tell," he said.

The churches are in the middle of a capital campaign, but Etherington wasn't sure how much members were trying to raise.

St. Jude parishioner Patti Smogor last night said, "Love the sinner, hate the sin," when asked about Rodis. She credited his leadership for bringing people back to church.

"He was just charismatic, very loving, very spiritual," Smogor said. However, the amount Rodis is accused of embezzling is large for a small parish, Smogor said.

Both churches are in capital campaigns to pay off debt from buildings and renovations, including classrooms for children. Smogor didn't have an estimate on the amount parishioners sought to raise.

Rodis is scheduled to appear in Louisa Circuit Court on Jan. 18. If convicted of felony embezzlement, he could face up to 20 years in prison.

Contact staff writer Calvin R. Trice at ctrice@timesdispatch.com or (540) 574-9977.

Times-Dispatch staff writer Alberta Lindsey contributed to this report.